Halloween! Tis the season and all that! Candy! Ghosts! Frankensteins! Draculas! Wolfmans! Pumpkins!…ok on with the list of new comics…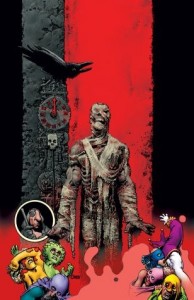 If you're like me you've been reading Poe (when you're not reading comics) because it's Halloween and it's been good Poe weather out there…so what better to read this Wednesday than a comic adaption of my fave and 3rd fave of Poe's works The Raven and The Mask of the Red Death from Dark Horse comics!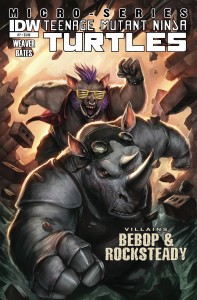 Also this week TMNT classic villains Bebop and Rocksteady hit the IDW series hard as they finally make their debut!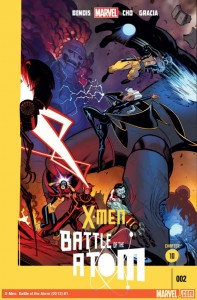 The X-Men event Battle of the Atom is quickly crashing to a halt as 2 –er 3 … maybe 4 or was it 5 different versions of the X-Men have all come been thrust into a conflict in the exact location where the X-Men first fought Magneto! Can't wait to see how they get outta this one!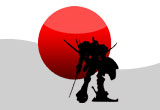 COMICS AND MAGAZINES
Action Comics Annual #2  




Adventure Time 2013 Spoooktacular #1




All New Fathom #3 (OF 8 )




Aquaman Annual #1




Archie #649 




Ash & The Army Of Darkness #1 




Avengers #22 




Avengers Ai #5




Bionic Man #25      




Bushido #5 (OF 5 ) 




Captain America Living Legend #2 (OF 4 )   




Captain Midnight #4   




Cataclysm #0.1 




Clive Barker Next Testament #5 (OF 12 )




Criminal Macabre Eyes Of Frankenstein #2 (OF 4 ) 




Crossed Badlands #40 




Damian Son Of Batman #1 (OF 4 ) 




Danger Girl The Chase #2 (OF 4 )




Deadpool Kills Deadpool #4 (OF 4 ) 




Dinosaurs Attack #4 (OF 5 )




Edgar Allan Poes The Raven & Red Death One Shot




Ferals #17




Five Ghosts #6 




Forever Evil Argus #1 (OF 6 )  




Fox #1




Game Of Thrones #17 




Gi Joe #9




Godzilla Rulers Of The Earth #5




Green Lantern Annual #2   




Guardians Of Galaxy #8




Hellraiser Annual 2013 #1 




Infinity #5 (OF 6 )   




Itty Bitty Hellboy #3 (OF 3 )




Kick-Ass 3 #4 (OF 8 )




King Conan Hour O/T Dragon #6 (OF 6 )  




Kiss Kids #3 (OF 4 ) 




Knights Of The Dinner Table #202




Legend Of Oz The Wicked West Ongoing #12 




Mice Templar Iv Legend #8 




My Little Pony 2013 Annual 




My Little Pony Friendship Is Magic #12      




Nightwing Annual #1        




Powerpuff Girls #2  




Previews #302 November 2013
Marvel Previews November 2013 Extras
Prophet #40




Punisher Trial Of Punisher #2 (OF 2 ) 




Saga #15
Sandman Overture #1 (OF 6 )
Scarlet Spider #23  




Sex #8




Shadow Year One #6 (OF 10 )




Simpsons Illustrated #8 




Smalville Season 11 Special #3 




Sonic The Hedgehog #254




Soulfire Vol 4 #8 




Star Trek Magazine #47 Px Ed 




Star Wars Dark Times Spark Remains #4 (OF 5 ) 




Stuff About Sex (ONE Shot ) 




Superior Spider-Man #20




Superior Spider-Man Team Up Special #1




Swamp Thing Annual #2 




Teen Titans Annual #2




Thor Crown Of Fools #1 




Thought Bubble Anthology 2013 #3 




TMNT Ongoing #27




TMNT Villain Microseries #7 Bebop & Rocksteady




Transformers Robots In Disguise #22




True Lives O/T Fabulous Killjoys #5 (OF 6 ) 




Ultimate Comics X-Men #33




Uncanny X-Force #13




Warlord Of Mars Dejah Thoris #31




Wild Blue Yonder #3 (OF 5 )  




Witchblade #170




X-Men Battle Of Atom #2 (OF 2 ) 
TRADE PAPERBACKS, GRAPHIC NOVELS, HARDCOVERS AND MANGA

Archie Comics Spectacular Its A Date Tp




Avatar Last Airbender Tp Vol 06 Search Part 3




Batman HC Vol 03 Death Of The Family




Cable And X-Force Tp Vol 02 Dead Or Alive 




Deadshot Beginnings Tp 




Doctor Who Vault Treasures From First 50 Years HC




Gantz Tp Vol 29 




Inhumans Tp By Right Of Birth   




Johnny Hiro GN Vol 02 Skills To Pay The Bills




Jsa Liberty Files The Whistling Skull Tp




Last Of Us Tp American Dreams 




Legend Of The Scarlet Blades DLX HC




Mara Tp  




Maria M HC




Marvel Universe Thor Digest Tp




Planetoid Tp Vol 01     




Rage Of Poseidon HC




Superman Adventures The Man Of Steel Tp




Thor Vs Thanos Tp




Ultimate Comics Ultimates Tp Disassembled 




Wolverine And X-Men By Jason Aaron Tp Vol 07  
TOYS
Adventure Time 5-In Finn W/New Face AF




Injustice Catwoman Vs Doomsday 2 Pack AF 




Super Street Fighter IV Play Arts Kai Ken AF




Super Street Fighter IV Play Arts Kai Sakura AF 
ODDS AND ENDS
Orange Lantern 1:1 Scale Power Battery Prop W Ring




Universal Monsters Bride Bust Bank 




Universal Monsters Wolfman Bust Bank