Here's the list of comics coming out Wednesday October 23rd!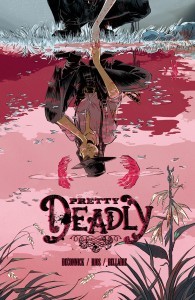 PRETTY DEADLY #1: Behold! A Super Comics Lady Team-up! Kelly Sue DeConnick & Emma Rios are bringing us what they're describing as Sandman meets Preacher from Image this week…I'M SOLD!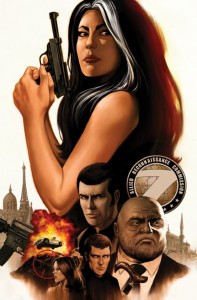 VELVET #1: A new spy series about a bad@$$ lady kickin' @$$ n takin' names brought to us by the dudes who redefined Captain America (and changed comics forever by *** SPOILER *** bringing Bucky Barnes back from the dead in their WINTER SOLDIER saga)…once again I say: I'M SOLD!
COMICS AND MAGAZINES
Adventures Of Superman #6




Aliens Vs Parker #4 (OF 4 )




All New Executive Assistant Iris #2




All Star Western #24 




Alter Ego #121 




Aquaman #24 




Army Of Darkness/Reanimator One Shot




Arrow #12  




B & V Friends Double Digest #236




Batman The Dark Knight #24 




Betty & Veronica #268 




Beware The Batman #1




Bounce #6




Bravest Warriors #13




Bushido #4 (OF 5 ) 




Catwoman #24  




Clone #11




Conan People O/T Black Circle #1 (OF 4 ) 




Daredevil #32




Dark Horse Presents #29 




DC Vs Masters Of The Universe #2 (OF 6 )




Doctor Who Vol 3 #14




FF #13 




Flash #24      




Futurama Comics #69 




Great Pacific #11 




Green Hornet Legacy #42 




Green Team Teen Trillionaires #5




Harbinger #17




Haunted Horror #7 




Indestructible Hulk #14  




Infinity Heist #2 (OF 4 ) 




Infinity Hunt #3 (OF 4 )




Injustice Gods Among Us #10




Iron Man #17 




Judge Dredd #12 




Justice League #24




Justice League Dark #24




Juxtapoz #154 Nov 2013




Kiss Me Satan #2 (OF 5 ) 




Larfleeze #4  




Lookouts Riddle Vol 01 #6 




Marvel Now What #1  




Mass Effect Foundation #4




Massive #16  




Mega Man #30




Mind MGMT #16 




Nova #9




Other Dead #2 (OF 6) 




Pathfinder #10     




Pretty Deadly #1




Rat Queens #2




Red Lanterns #24




Rocketeer Spirit Pulp Friction #2 (OF 4)




Samurai Jack #1 




Satellite Sam #4




Savage Wolverine #10  




Secret Avengers #10




Sex Criminals #2 




Sonic Universe #57




Star Trek Ongoing #26




Star Wars Legacy II #8 




Superior Carnage #4 (OF 5)  




Superior Spider-Man Team Up #5




Superman #24




Supurbia Ongoing #12                                     




Talon #12   




Teen Titans #24




The Spider #15   




Thunder Agents #3  




Thunderbolts #17 




TMNT New Animated Adventures #4




Tom Strong And The Planet Of Peril #4 (OF 6 )




Transformers Regeneration One #95




Ultimate Comics Spider-Man #28




Uncanny #4   




Uncanny Avengers #13  




Unwritten #54 




Vampirella #35 




Vampirella Southern Gothic #3 (OF 5 ) 




Velvet #1 




Venom #42  




Walking Dead Magazine #6 Px Ed




Wasteland #49




Wolverine And X-Men #37




X-Files Season 10 #2 4th Ptg




X-Men #5 2nd Ptg 




Young Avengers #11




Zombie War #1 (OF 2 )   
TRADE PAPERBACKS, GRAPHIC NOVELS, HARDCOVERS AND MANGA

Archie The Married Life Tp Vol 04




Batgirl Hc Vol 03 Death Of The Family




Capcom 30th Anniv Character Encyclopedia Hc 




Complete Crumb Comics Tp Vol 06 Crest Wave 




Fables Encyclopedia Deluxe Ed Hc




Garth Ennis Erf Hc




GI Joe Americas Elite Disavowed Tp Vol 01




Great War July 1 1916 Battle Of Somme Panorama




Hellboy Midnight Circus Hc




Higurashi When They Cry Gn Vol 23




Jim Featuring Sif Tp Vol 02 Seeds Of Destruction




MMW Sgt Fury Tp Vol 01  




My Little Pony Tales Tp Vol 01 




Powerpuff Girls Classics Tp Vol 01 Power Party




Shadowman Tp Vol 02 Darque Reckoning




Star Trek Tng Doctor Who Assimilation Complete Hc  




Suicide Squad Tp Vol 03 Death Is For Suckers




Uncanny Avengers Prem Hc Vol 02 Apocalypse Twins
TOYS
Batman Arkham City Batman Vs Bane Af 2 Pack




DC Comics New 52 Pandora Af 
ODDS AND ENDS
DC Batman Automobilia Fig Coll Mag #18




DC Batman Automobilia Fig Coll Mag #19




DC Superhero Chess Fig Coll Mag #43 Green Arrow




DC Superhero Chess Fig Coll Mag #44 Bizarro 




Hellboy II Right Hand Of Doom Glove