The Ghost is at it again! The latest offering in exclusive variants hits shelves today and it's for Matt Fraction and Chip Zdarsky's SEX CRIMINALS #1!
Image has been pretty much on fire this year with it's string of awesome new creator owned series popping up and this one is no less exciting! Matt Fraction brings his internet addled brain (do you follow him on twitter and tumblr…when does this guy get any writing done?!) and Chip Zdarsky onto yet another Image on-going comic! And it's getting a Ghost Variant!
Sex Criminals you ask?!:
A SEX COMEDY FOR COMICS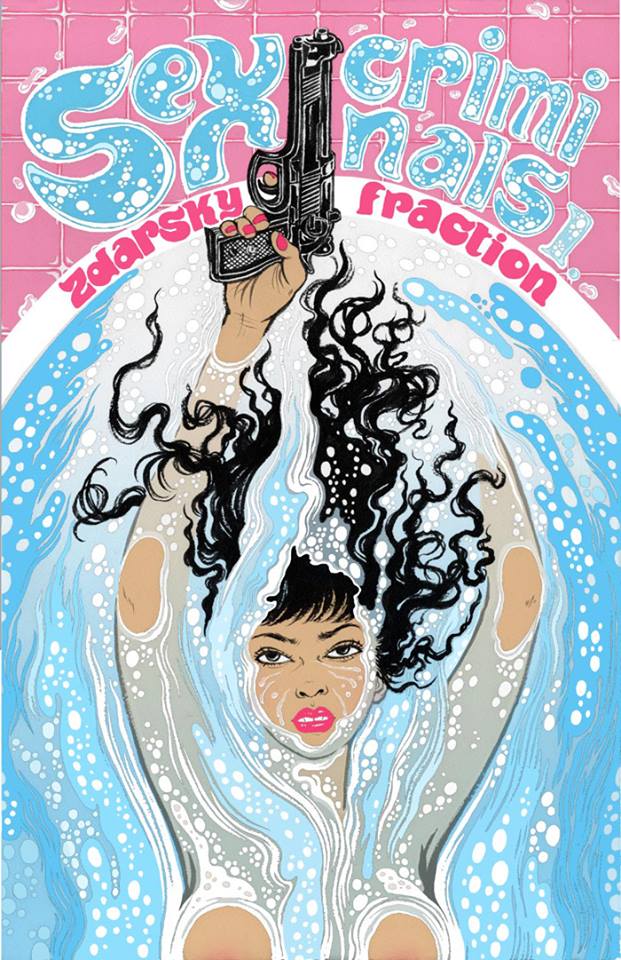 Suzie's a normal girl with an extraordinary ability: when she has sex, she stops time. One night she meets John…  who has the same gift. And so they do what any other sex-having, time-stopping, couple would do: they rob banks. In the vein of THE 40-YEAR OLD VIRGIN and BRIDESMAIDS, Image Comics invites you to come along with MATT FRACTION (Hawkeye, SATELLITE SAM) and CHIP ZDARSKY  (Prison Funnies, Monster Cops) for the series that puts the "comic" back in "comics" and the "sexy" back in "sex crimes."
Ghost Variant you ask?!:
Ghost Variants are rare variant covers to awesome comics, whether they be first issues that you should be checking out (East of West  or 12 Reasons to Die) or comics you already know and love (Walking Dead or Fatale). GVs feature eye catching art by some of the industry's best artists and can only be found at exclusive retailers nationwide! Both of our BNW locations count ourselves lucky to be two of those retailers!
The Sex Criminals Ghost Variant features art by Yuko Shimizu! You have probably seen here amazing art grace the covers of the Vertigo comic's series The Unwritten and in the comic adaptation of Neil Gaiman's The Sandman: The Dream Hunters.
Be sure to get your hands on this and complete your collection of GVs while supplies last!!!
CHECK HERE FOR MORE INFO ON THE PROCESS OF THE COVER
And if you wanna get a copy for yourself ——> THIS!