Holy October, Batman! Batman?!…Superman…Wonder Woman…Aqua –where the heck are the DC Heroes?! Forever Evil #2 hits shelves this week as does Fantomex Max #1 featuring Marvel's favorite Frenchie Art Theif/ Spy…but MAX!
Oh, before I move on to telling you about all the other comics that are coming this week why not take a quick second to remind you (or inform you if you missed it before) of Matt Fraction and Chip Zdarsky's new Image Comic called Sex Criminals (OUT RIGHT NOW!) that features an amazing Ghost Variant by Yuko Shimizu! CLICK THIS HYPERLINK AND READ ALL ABOUT IT!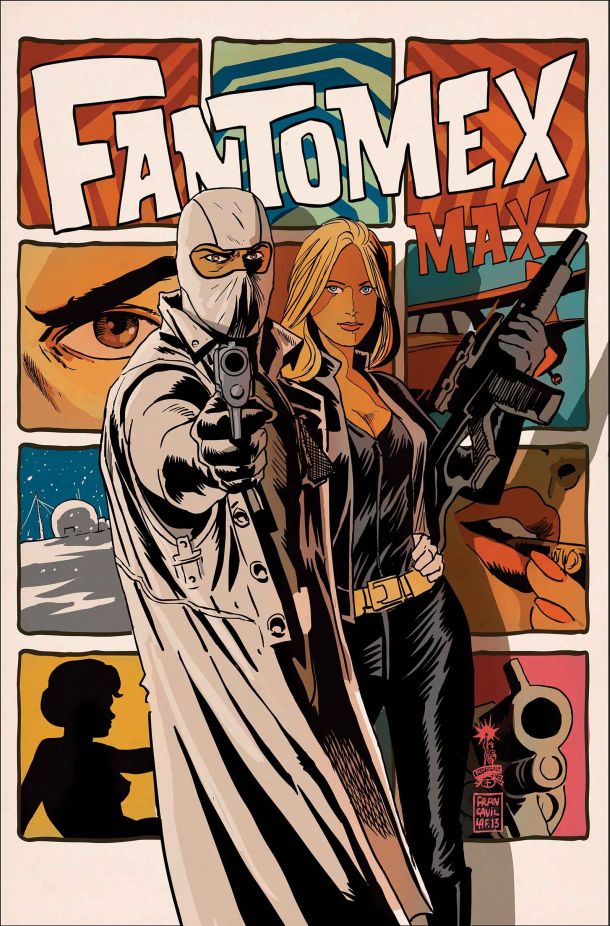 FANTOMEX MAX: How can you say the nay no to a cover like that!? Unless you're of an age where this comic and it's contents are totally age inappropriate. It is a Marvel MAX book after all.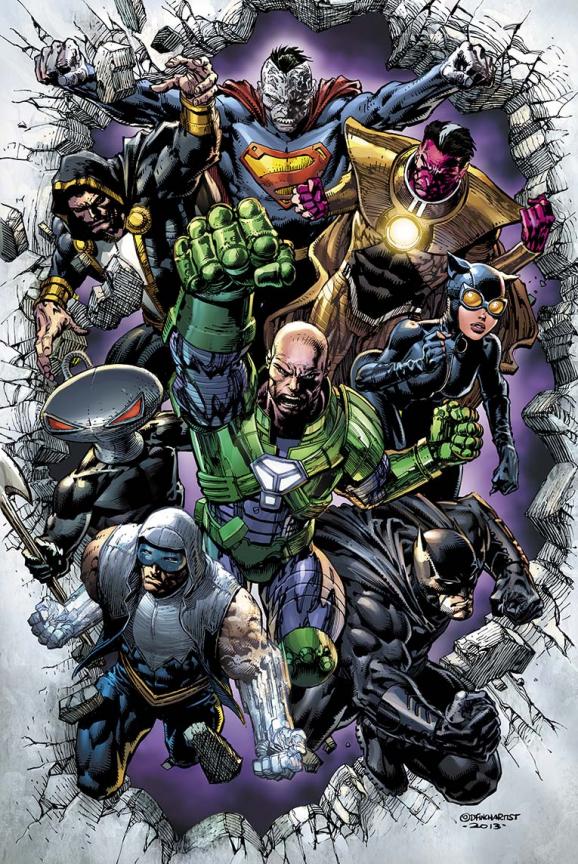 FOREVER EVIL #2: We've made it through Villains Month! Great Job! Now where the heck are the heroes? If this is a cover full of villains why the heck is Batman on there?! (Btw if you're reading Forver Evil I recommend picking up the Justice League #23.4 – Secret Society issue but you don't have to take my word for it)
Ok now here's the rest of the comics!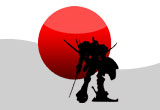 COMICS AND MAGAZINES
Absolution Rubicon #4
Action Comics #24
All New X-Men #17
All New X-Men Special #1
Archie #648
Archie Comic Super Special #4
Archie Double Digest #244
Batman Black & White #2 (OF 6)
Batwing #24
Bedlam #9
Black Bat #6
Blackacre #11
Bushido #1 (OF 5)
Captain America Living Legend #1 (OF 4)
Catalyst Comix #4 (OF 9)
Cavewoman Primal One Shot
Cbldf Liberty Annual 2013
Codename Action #2 (OF 6)
Crossed Badlands #37
Daredevil Dark Nights #5 (OF 8)
Detective Comics #24
Doctor Who Classics #5
Doctor Who Prisoners Of Time #9 (OF 12)
Earth 2 #16
Elephantmen #51
Fairest #20
Famous Monsters Of Filmland #270
Fantomex Max #1 (OF 4)
Forever Evil #2 (OF 7)
Garfield #18
GI Joe A Real American Hero #194
GI Joe Cobra Files #7
God Is Dead #2 (OF 6)
Green Arrow #24
Green Lantern #24
Grindhouse Doors Open At Midnight #1 (OF 8)
He Man And The Masters Of The Universe #6
Hinterkind #1
Hit #2 (OF 4)
Infinity Hunt #2 (OF 4)
Invincible Universe #7
Iron Man #16
Judge Dredd Classics #4
Justice League Dark #22 2nd Ptg
Kiss Kids #2 (OF 4)
Lady Rawhide #2 (OF 5)
Lazarus #4
Legend Of Oz The Wicked West Ongoing #11
Looney Tunes #215
Mara #6 (OF 6)
Mark Waid Green Hornet #6
Marvel Knights Spider-Man #1 (OF 5)
Marvel Universe Avengers Assemble #1
Mighty Avengers #2
Mind The Gap #15
Mocking Dead #1 (OF 4) 2nd Ptg
Mocking Dead #2 (OF 4)
Morning Glories #32
Movement #5
Night O/T Living Dead Aftermath #11
Occultist #1 (OF 5)
Pathfinder Goblins #3 (OF 5)
Quantum & Woody #4
Reality Check #2
Robocop Last Stand #3 (OF 8)
Savage Wolverine #9
Scooby Doo Where Are You #38
Shadow Now #1 (OF 6)
Shadowman #11
Solid State Tank Girl #4 (OF 4)
Sonic The Hedgehog #253
Spawn #236
Star Wars #2 (OF 8)
Stormwatch #24
Suicide Risk #6
Superior Foes Of Spider-Man Now #4
Swamp Thing #24
Thunderbolts #16
Todd The Ugliest Kid On Earth #6
Trillium #3 (OF 8)
Trinity Of Sin The Phantom Stranger #12
Uber #6
Witching Hour #1
TRADE PAPERBACKS, GRAPHIC NOVELS, HARDCOVERS AND MANGA
Archies Even Funnier Kids Joke Book Tp
Avengers Endless Wartime OGN HC
Batman Court Of Owls Book & Mask Set
Battle Angel Alita Last Order Tp Vol 18
Batman Odyssey Tp
Bleach Tp Vol 58
Doctor Who Series 01 HC Winters Dawn Seasons End
Earth 2 HC Vol 02 The Tower Of Fate
Earth 2 Tp Vol 01 The Gathering
Fables Werewolves Of The Heartland Tp
Hello Kitty Here We Go GN
It Girl & Atomics Round Two World Is Flat Tp
Jack Cole Deadly Horror HC
JLA Earth 2 Deluxe Edition HC
Punch Drunk Moustache SC
Mobile Suit Gundam Origin HC Vol 03
Percy Jackson & Olympians Sc Vol 03 Titans Curse
Sickness Unto Death Gn Part 01
Sonic Saga Tp Vol 04 House Of Cards
Suicide Risk Tp Vol 01
Supercrooks Tp
Thor Season One Prem HC
Uglydoll Shhhhhhhh GN
Unexpected Tp
Uzumaki Gn Vol 03 2nd Ed
TOYS
Universal Monsters Retro Cloth Series 4 AF
ODDS AND ENDS
Batman Arkham City Batman Statue
Can Of Worms Vinyl Fig Pink Ver
DC Batman Automobilia Fig Coll Mag #17 Batman #37
DC Comics Cover Girls Supergirl Statue
DC Superhero Chess Fig Coll Mag #41 Flash
DC Superhero Chess Fig Coll Mag #42 Captain Cold
Gentle Giant Avengers Iron Man Dlx Mini-Bust
Good Luck Trolls Mystery Box Asst Series 3
My Neighbor Totoro Cat Bus Tape Cutter