This week we see the end of Trinity War, the next chapter of Infinity, a comic thought lost returns and a new series change it's title with it's second issue. Get ready here's the list of comics for Aug 28th!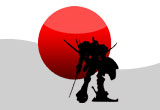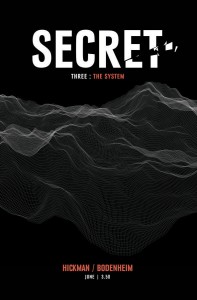 Remember when Hickman started this Image series about guys in suits, blackmail and someone losing a finger in April 2012?! Yea we thought it was one of those books we'd never see again too…BUT it's back! Issue #3 will be on shelves Wednesday! Time to track down those previous issues from the long box (or huge stack next to your bed) they've been living in!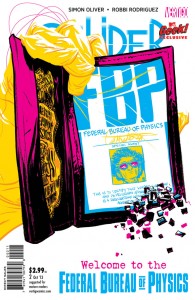 I'm gonna hope you picked up Collider #1 when it came out last month because it was my favorite comic that week. But no matter how awesome the story was, how pretty the art and colors were or how eye catching the covers could be it's changing it's name…Collider is now The Federal Bureau  of Physics as of it's 2nd issue. HERE and HERE is more about why this change has happened. I wonder how long it'll take me to get a FBP windbreaker?…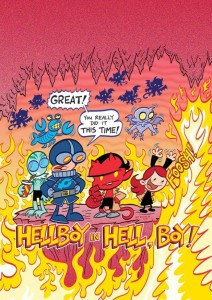 Itty Bitty Hellboy #1 is out this week! Look at that Lobster Johnson! Look at that Abe! I'm sold!
COMICS AND MAGAZINES
A Plus X #11
Adventures Of Superman #4
All New Fathom #2 (OF 8 )
All Star Western #23
Amazing Figure Modeler #55
American Vampire Anthology #1
Angel & Faith #25
Aquaman #23
Astonishing X-Men #66
Atomic Robo Real Science Adv #10
Avengers Arena #14
Back Issue #67
Batman Incorporated Special #1
Batman Superman #3
Batman The Dark Knight #23
Captain America #10
Captain Marvel #15
Captain Midnight #2
Catwoman #23
Deadpool #15
Doctor Who Prisoners Of Time #8 (OF 12 )
Executive Assistant Assassins #14
Extinction Parade #2
Fanboys Vs Zombies #17
FBP Federal Bureau Of Physics #2 (NOTE: Previously COLLIDER)
FF #11
Flash #23
Futurama Comics #68
Gambit #16
Gi Joe #7
Gi Joe A Real American Hero #193
Godzilla Rulers Of The Earth #3
Green Team Teen Trillionaires #4
Heavy Metal #264
Injustice Gods Among Us #8
Itty Bitty Hellboy #1 (OF 3 )
Jericho Season 4 #4 (OF 5 )
Jim Butchers Dresden Files Ghoul Goblin #6
Journey Into Mystery #655
Judge Dredd Classics #2
Justice League #22 2nd Ptg
Justice League #23
Kill Shakespeare Tide Of Blood #5 (OF 5 )
King Conan Hour O/T Dragon #4 (OF 6 )
Larfleeze #3
Last Zombie #4 (OF 5 )
Lazarus #2 2nd Ptg
Lazarus #3
Mark Waid Green Hornet #5
Mass Effect Foundation #2
Massive #15
Mind Mgmt #14
Mind The Gap #13
Miss Fury #5
Morning Glories #30
My Little Pony Friendship Is Magic #10
Mysterious Strangers #3
New Avengers #9
Occupy Comics #3
Overtaken #1 (OF 5 )
Peanuts Vol 2 #11
Previews #300 September 2013
Marvel Previews September 2013 Extras
Red Lanterns #23
Regular Show #3
Scarlet Spider #21
Secret #3
Secret Avengers #8
Sex #6
Star Wars Legacy II #6
Steed And Mrs Peel Ongoing #11
Super Dinosaur #20
Superman #23
Talon #11
Teen Titans #23
Thanos Rising #5 (OF 5 )
Think Tank #9
Thor God Of Thunder #12
Thumbprint By Joe Hill #3 (OF 3 )
Tmnt Ongoing #25
Tom Strong And The Planet Of Peril #2 (OF 6 )
Transformers More Than Meets Eye #20
Transformers Prime Beast Hunters #4
Transformers Regeneration One #94
Ultimate Comics Spider-Man #26
Uncanny #3
Uncanny Avengers #11
Uncanny X-Men #11
Unwritten #52
Vampirella #33
Wake #1 Directors Cut
Wasteland #47
Wolverine And X-Men #35
Wolverine Max #10
Young Avengers #9
TRADE PAPERBACKS, GRAPHIC NOVELS, HARDCOVERS AND MANGA
Daredevil By Mark Waid Tp Vol 04
Fables Deluxe Edition Hc Vol 07
Fury Max Tp Vol 02 My War Gone By
Guardians Of Galaxy Prem HC Vol 01 Cosmic Avengers
Hellblazer Tp Vol 06
Last Zombie Tp Vol 04 Before The After
League Of Extraordinary Gentlemen Omnibus Tp
Legion Lost Tp Vol 2 The Culling
Local Hc New Ptg
Mm25 Mega Man & Mm X Off Comp Works Sc
Progeny Tp Vol 01
Rocket Raccoon Tp Tales From Half World
Sam Kieth Samplings & Dabblings Sc
Sandman Omnibus Hc Vol 01
Science A Discovery In Comics HC
Secret Avengers Tp Vol 01 Reverie Tp
Squirrel Machine Sc
Talon Tp Vol 01 Scourge Of The Owls
X-Men Legacy Tp Vol 02 Invasive Exotics
Young Avengers Tp Vol 01 Style Substance
TOYS
Batman Unlimited 6in Vampire Batman Af
Hush Joker Harley Stealth Batman Af 3 Pack
ODDS AND ENDS
Batman Arkham City Nightwing Statue
Batman Black & White Statue By Sean Murphy
Dc Batman Automobilia Fig Coll Mag #12
Dc Batman Automobilia Fig Coll Mag #14
Hellboy Full Head Mask
Legend Of Zelda 2014 16 Month Wall Cal