THE WAIT IS OVER! THERE'S A NEW ISSUE OF SAGA ON THIS WEEK'S LIST O' COMICS! (there's also some other awesome stuff out this week that's not Saga if you were wondering)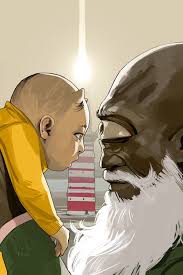 So yea Saga #13 is finally here! Get ready…wait, you haven't read Saga yet (that 1 person we haven't forced to read Vol 1) be sure to grab Volume 1 ($9.99) and Volume 2 ($14.99) ASAP and catch up!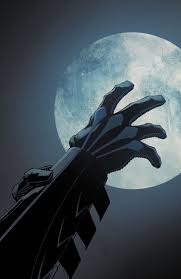 Batman #23 continues the New 52 origins of Batman. Who is that Red Hood guy anyway?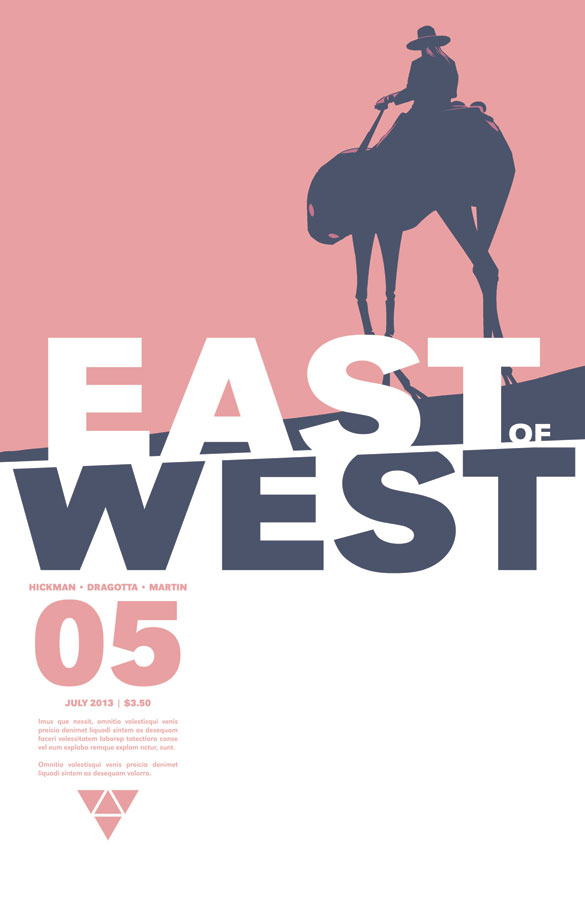 East of West #5. Nuff said.
COMICS AND MAGAZINES
A1 #3
Adventure Time Candy Capers #2 (OF 6)
Archer & Armstrong #12
Archie & Friends Double Digest #30
Astonishing X-Men #65
Astro City #3
Avengers Arena #13
Batgirl #23
Batman #23
Batman Arkham Unhinged #17
Batman Lil Gotham #5
Battlestar Galactica #3
Breath Of Bones A Tale O/T Golem #3
Btvs Season 9 Freefall #24
Charismagic Death Princess #3
Constantine #6
Deadpool #14
Deathmatch #8
Dejah Thoris & Green Men Of Mars #5 (OF 12)
Demon Knights #23
Dexter #1 (OF 5) 2nd Ptg
Disney Girls Presents #16
Django Unchained #6 (OF 7)
Doctor Who Vol 3 #12
Doomsday.1 #4 (OF 4)
East Of West #4 2nd Ptg
East Of West #5
Fantastic Four #11
Fearless Defenders #8
Fubar By The Sword #1 (OF 2)
Garfield Pet Force Special #1
Ghosted #2
Gi Joe Special Missions #6
Great Pacific #9
Green Lantern Corps #23
Halo Initiation #1 (OF 3)
Harbinger #15
Herobear & The Kid Inheritance #1 (OF 5)
Hobby Japan Jul 2013
Infinity #1 (OF 6)
Justice League Of America #7
Katana #7
Knights Of The Dinner Table #200 Sp Anniversary Ed
Last Zombie #3 (OF 5)
Lost Vegas #4 (OF 4)
Marvel Universe Ultimate Spider-Man #17
Mind The Gap #12
My Little Pony Cover Gallery #1
Nightwing #23
Peter Panzerfaust #13
Red Sonja #2
Saga #13
Savage Dragon #190
Scarlet Spider #20
Secret Avengers #7
Shadow Green Hornet Dark Nights #2 (OF 5)
Six Gun Gorilla #3 (OF 6)
Smallville Season 11 #16
Spawn #234
Spongebob Comics #23
Star Trek Ongoing #24
Star Wars #8
Suicide Squad #23
Superboy #23
Superior Spider-Man Team Up #2
Supurbia Ongoing #10
Thor God Of Thunder #11
Threshold #8
Thunder Agents #1
True Lives O/T Fabulous Killjoys #3 (OF 6)
Ultimate Comics X-Men #30
Uncanny X-Force #10
Uncanny X-Men #10
Vampirella Southern Gothic #1 (OF 5)
Wake #2 (OF 10) 2nd Ptg
Walking Dead #113
Wolverine #8
Wolverine And X-Men #34
Worlds Finest #15
X #4
X-Files Season 10 #1 2nd Ptg
X-Files Season 10 #3

TRADE PAPERBACKS, GRAPHIC NOVELS, HARDCOVERS AND MANGA
Alpha Tp Big Time
Avengers Assemble Tp Science Bros
Bad Break Hc
Best Of Archie Comics Tp Vol 03
Bprd Hell On Earth Tp Vol 06 Return O/T Master
Children Of Palomar Hc
Dr Strange And Dr Doom Tp Triumph And Torment
Ec Al Feldstein Child Of Tomorrow Hc
Ec Johnny Craig Fall Guy For Murder Hc
Fearless Defenders Tp Vol 01 Doom Maidens
Flash Hc Vol 02 Rogues Revolution
Flash Tp Vol 01 Move Forward
Frank Cho Women Drawings & Illustrations Tp Vol 02
Gi Joe Tp Vol 01 Homefront
God Is Disappointed In You Hc
Invincible Compendium Tp Vol 02
Knights Of Sidonia Gn Vol 04
Magi Gn Vol 01
March Gn Book 01
Mark Schultz Xenozoic Tales Artist Ed Hc
Mike Nortons Battlepug Hc Vol 02
My Little Pony Digest Tp Vol 01
Neon Genesis Evangelion 3in1 Ed Tp Vol 04
One Trick Rip Off Deep Cuts Tp
Right State Tp
Smallville Season 11 Tp Vol 02
Transformers 30th Anniversary Collection Hc
Transformers Dark Prelude Tp
Umineko When They Cry Gn Vol 04
What Is Above Hc
Wolverine Tp Vol 01 Hunting Season
Worlds Finest #15
TOYS
Assassins Creed Series 1 Af
Kamen Rider Double Cyclone Joker S.H.Figuarts Af
ODDS AND ENDS
Amazing Spider-Man Venom Unbound Fine Art Statue
Dc Comics Wonder Woman Artfx+ Statue New 52 Ver
Dc Superhero Chess Fig Coll Mag #39 Deadshot
Dc Superhero Chess Fig Coll Mag #40 Batman
My Neighbor Totoro Big Cat Bus Bank
My Neighbor Totoro Music Box
Olivia Bettie Page 2014 Wall Cal
Olivia Pin Ups 2014 Wall Cal
Star Wars Saga Oversized 2014 Wall Cal
Tls X Transformers Mini Fig
Walking Dead 2014 Days Of Survival Wall Calendar