While you're all sweltering out there in this summer heat and still basking in the glow of the 4th's fireworks displays check out the comics shipping July 10, 2013!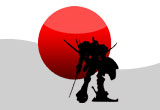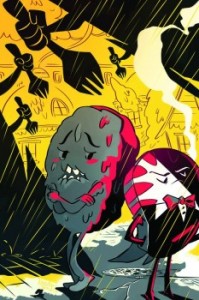 Adventure Time Candy Capers #1 comes out this week adding a detective story-like whodoneit to it's already crazy universe!!!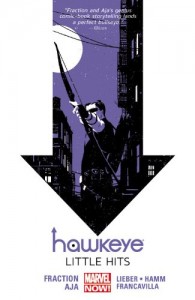 If you've only read volume 1 of Fraction's Hawkeye you're in luck! Here comes volume 2! Seriously if you're not reading this you're cheating yourself out of one of the best comic books of the decade!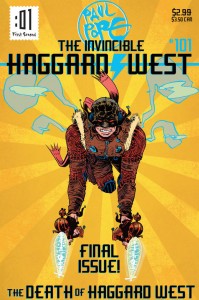 This book brings us one step closer to Paul Pope's much anticipated Battling Boy graphic novel!
COMICS AND MAGAZINES
12 Reasons To Die #2
68 Jungle Jim #4 (OF 4)
A1 #2
Adventure Time Candy Capers #1 (OF 6)
Alter Ego #118
Americas Got Powers #6 (OF 7)
Archie & Friends Double Digest #29
Arsenic Lullaby Big Stall One Shot
Astonishing X-Men #64
Astro City #2
Avengers Arena #12
Back Issue #65
Ballistic #1
Batgirl #22
Batman #22
Batman Arkham Unhinged #16
Batman Lil Gotham #4
Bionic Man #21
Black Bat #3
Breath Of Bones A Tale O/T Golem #2
Btvs Season 9 Freefall #23
Bubblegun #2 (OF 5)
Chew #35
Crossed Badlands #32
Daredevil #28
Dark Shadows #18
Darkness #114
Dead Mans Run #6
Death Of Haggard West One Shot
Demon Knights #22
Dr Who Magazine #461
East Of West #4
Eerie Comics #3
Fathom Elite Saga #4
Fearless Defenders #6
George Rr Martin Skin Trade #1
Ghosted #1
Godzilla Ongoing #13
Great Pacific #8
Green Lantern Corps #22
Green Lantern The Animated Series #14
Grimm #3
Hawkeye #12
Heavy Metal #263
Helheim #5
Hi Fructose Magazine Quarterly #28
Indestructible Hulk #10
Jennifer Blood #29
Judge Dredd Classics #1
Justice League #22
Katana #6
Marvels Thor Dark World Prelude #2 (OF 2)
Mega Man #27
Miss Fury #4
My Little Pony Micro Series #6 (OF 6)
Mylo Xyloto #6
Night Of The 80s Undead #1 (OF 3)
Nightwing #22
Pathfinder #8
Peanuts Vol 2 #2 (OF 4)
Peter Cannon Thunderbolt #10
Peter Panzerfaust #12
Planet O/T Apes Cataclysm #11
Quantum & Woody #1
Rachel Rising #18
Secret Avengers #6
Planet O/T Apes Cataclysm #11
Sheltered #1
Six Gun Gorilla #2 (OF 6)
Smallville Season 11 #15
Solid State Tank Girl #2 (OF 4)
Spongebob Comics #22
Star Wars #7
Storm Dogs #6 (OF 6)
Suicide Squad #22
Superior Spider-Man #13
Superman Unchained #2
Supurbia Ongoing #9
Threshold #7
Tmnt New Animated Adventures #1
True Lives O/T Fabulous Killjoys #2 (OF 6)
Ultimate Comics Ultimates #27
Uncanny X-Men #8 Now
Walking Dead #112
Warlord Of Mars Dejah Thoris #27
Wolverine #6
Worlds Finest #14
X #3
X-O Manowar (VU) #15
Young Avengers #7
TRADE PAPERBACKS, GRAPHIC NOVELS, HARDCOVERS AND MANGA
Absolute Blackest Night HC
Archie Meets Glee Tp
Avatar Last Airbender Tp Vol 05 Search Part 2
Avengers Prem Hc Vol 02 Last White Event
Before Watchmen Comedian Rorschach Dlx Hc
Before Watchmen Nite Owl Dr Manhattan Dlx Hc
Best Of Ec Artist Ed HC
Bravest Warriors Tp Vol 01
Dark Tower Gunslinger Tp Way Station
Diablo Sword Of Justice Tp
Essential Captain America Tp Vol 07
Ff Tp Vol 01 Fantastic Faux
Gambit Tp Vol 02 Tombstone Blues
Garfield Show Gn Vol 01 Unfair Weather
Genius Gn
Ghostbusters Tp Vol 05 New Ghostbusters
Harlan Ellisons 7 Against Chaos HC
Hawkeye Tp Vol 02 Little Hits
He Man And The Masters Of The Universe Tp Vol 01
Justice League Dark Tp Vol 02 Books Of Magic
Locke & Key Tp Vol 05 Clockworks
Love And Rockets Companion 30 Years Sc
Mouse Guard Hc Vol 03 Black Axe
Saga Of The Swamp Thing Tp Book 04
Sonic The Hedgehog Archives Tp Vol 21
Star Wars Purge Tp
Superior Spider-Man Tp Superiority Complex
Supergirl Tp Vol 02 Girl In The World
Tiger & Bunny Gn Vol 02
William Shakespeares Star Wars HC
Wolfsmund Gn Vol 01
TOYS
Dark Knight Rises Batman Maf Ex
Pacific Rim 7-In Series 1 Af Asst
Sw Creatures Bantha Plush
Sw Creatures Tauntaun Plush
Sw Creatures Wampa Plush
ODDS AND ENDS
Marvel Kitty Pryde Bishoujo Statue
Star Trek Brown Tribble
Superman Man Of Steel Statue By Jim Lee