New comics hit the shelves the day before Independence Day! Awesome! New comics and then a day of BBQ-ing and America celebrations!!!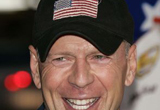 The day after New Comics Day you get to Live Free Or Die Hard 'cause it's America's Birthday! Thanks for making America safe Bruce Willis!
Hope you all got a copy of the sweet Darwyn Cooke GHOST VARIANT last week!!! It's amazing looking!!!!
COMICS AND MAGAZINES
47 Ronin #5 (OF 5)
Abe Sapien #4 New Race Pt 1
Action Comics #22
Adventure Time Fionna & Cake #6 (OF 6)
Aliens Vs Parker #3 (OF 4)
Ame Comi Girls #5
Archie #645
Archie Double Digest #241
Avengers #15
Avengers Ai #1
Batman Incorporated #12
Batwing #22
Blackacre #8
Catalyst Comix #1 (OF 9)
Charismagic Vol 2 #3 (OF 6)
Clive Barker Next Testament #2 (OF 12)
Daredevil Dark Nights #2 (OF 8)
Deadpool Kills Deadpool #1 (OF 4)
Deathmatch #7
Detective Comics #22
Dexter #1 (OF 5)
Dial H #14
Earth 2 #14
Emerald City Of Oz #1 (OF 5)
Emily & The Strangers #3 (OF 3)
Fairest #17
Five Weapons #5 (OF 5)
Garfield #15
Gi Joe Special Missions #4
Green Arrow #22
Guardians Of Galaxy Tomorrows Avengers #1
Invincible Universe #4
Iron Man #12
Jennifer Blood First Blood #6
Jim Butchers Dresden Files Ghoul Goblin #5
Legend O/T Shadowclan #5 (OF 5)
Legends Of The Dark Knight #10
Mark Waid Green Hornet #3
Marvel Universe Avengers Earths Heroes #16
Mercy Sparx #1
Mice Templar Iv Legend #4
Michael Avon Oemings Victories #3 (OF 5)
Movement #3
Night O/T Living Dead Aftermath #9
Owl #1 (OF 4)
Polarity #4 (OF 4)
Red She-Hulk #67
Red Sonja #78
Satellite Sam #1
Scooby Doo Where Are You #35
Shadow #15
Shadowman (VU) #8
Sonic The Hedgehog #250
Spawn #233
Stormwatch #22
Suicide Risk #3
Superior Foes Of Spider-Man #1
Swamp Thing #22
Ten Grand #3
Thief Of Thieves #15
Thunderbolts #12
Transformers Monstrosity #2 (OF 4)
Transformers Robots In Disguise #19
Trinity Of Sin Pandora #1
Trinity Of Sin The Phantom Stranger #10
Uber #3
Venom #37
What If Avx #1 (OF 4)
X-Men Legacy #13
TRADE PAPERBACKS, GRAPHIC NOVELS, HARDCOVERS AND MANGA
Axe Cop Tp Vol 04 President World
Billy The Kid Old Timey Oddities Tp Vol 03 Orm Of Loch Ness
Bleach Tp Vol 57
Cartoon Introduction To Statistics Hc
Daredevil Hc End Of Days
Doctor Who 3 Tp Vol 02 Eye Of Ashaya
Green Lantern Corps Hc Vol 02 Alpha War
Green Lantern Corps Tp Vol 01 Fearsome
Grendel Omnibus Tp Vol 03 Orions Reign
Jason Lost Cat Hc
Mobile Suit Gundam Origin Gn Vol 02 Garma
New Avengers Prem Hc Vol 01 Everything Dies
Secret History Of Db Cooper Hc
Team 7 Tp Vol 01 Fight Fire With Fire
Uglydolls Going Places Gn
Uncanny X-Men Prem Hc Vol 01 Revolution
Venom Tp Enemy Within
X-Factor Tp Vol 20 Hell On Earth War
TOYS
Dc The New 52 Flash Vs Vibe Af 2 Pack
Dc The New 52 Martian Manhunter Af
Marvel Select Im3 War Machine Af
ODDS AND ENDS
Animal Man Symbol T/S
Game Of Thrones 2014 Wall Calendar
St Uss Enterprise Bottle Opener