We're having a Labor Day sale! Come on out on Monday September 5, 2011 and save on some awesome new BNW Merch as well as catch up on some of your other comics!
Swing into either BNW location from 12-4pm and save an awesome 15% off your purchase! Did you miss out on grabbing Justice League #1?! Come grab it Monday. Have you still not picked up the Uncanny X-Force: The Apocalypse Solution TP?! Snag it Monday (if it's still there…you should really get your hands on this book asap) Why not play catchup on your Hellboy and BPRD collections?! There's been some major buzz in those series as of recent and you can save on your purchase on Monday!Whatever you do get yerself to either or both BNWs on Monday for some extra savings!
ALSO DON'T FORGET THAT HOLIDAYS NO LONGER CHANGE THE COMIC RELEASE DAY! NEW COMICS WILL STILL BE OUT ON WEDNESDAY 9/7, INCLUDING THE FIRST WAVE OF DC #1S!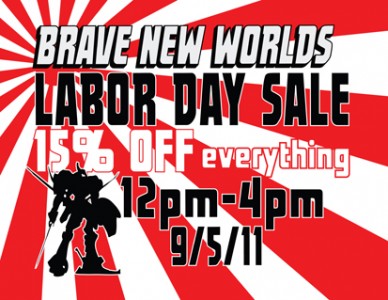 AND DON'T FORGET: