Hey You! Yea You! No not they guy behind you…I'm talking to you dear BNW Comics Blog Reader! Wanna get your hands on the end of Flashpoint early!? How about the new Justice League #1?!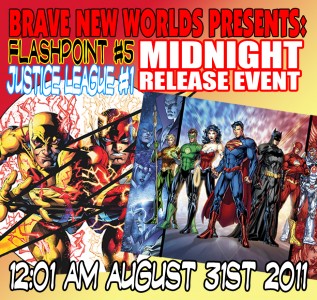 Have you ever found yourself standing outside BNW Old City late on a Tuesday night (maybe after visiting your favorite watering hole) wishing we were open and that you could get your hands on "Tomorrow's Comics Today!"?…well you wont have to wish for that Next Week!
Swing by BNW Old City on Tuesday August 30th and at 12:01am  (aka Midnight on August 31st) we will be letting you get your grubby mitts on the end of Flashpoint  and the beginning of Justice League!* Be the first kid on the innernette to have read Flashpoint #5 and see how/if Barry can fix the mess that Zoom has made! At the same time be there for the rebirth of all things DC as Geoff Johns and Jim Lee give us Justice League #1!!!
We, Rob & myself, are look forward to seeing all of you there (and then back again later on Wednesday for the rest of the new books) and be sure to keep your eyes glued to the BNW Facebook and Twitter for further updates as we get close to this Midnight Release!
(Remember kids this is only going to be happening in Old City so please please please don't be sitting outside the BNW Willow Grove at midnight that night wondering where the heck Eric, Lane, Rich and Dave are 'cause they'll be at home in bed sleeping and the only thing open there will be the Wawa next door…)
*The rest of the new books for that day will go on sale when we open our doors at 11am Wednesday August 31st.