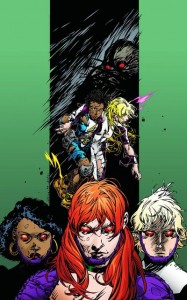 DC Comics Presents Legion of Super-Heroes #1
Legion Lost HC
So like I used to do every once in awhile, from time to time maybe you have said to yourself, "self, it's time to try to get into Legion of Super-Heroes again." But ultimately it does not work for you for whatever reason – too many characters, too much back story, too strange and disconnected (as it is set in the 31st century). And then the great experiment fails, again.
If you are willing to give Legion another go, I have two suggestions for you to take a chance on – both of which were recently collected and released by DC Comics again. During one of the previous-mentioned "relaunches" the Powers That Be tapped the cosmic writing duo of Dan Abnett and Andy Lanning (War of Kings, Nova) to update to revitalize it's future heroes.
DC Comics Presents Legion of Super-Heroes #1 (don't worry, it's a one-shot) by Abnett and Lanning collects a four-issue run of Legionnaires and Legion of Super-Heroes that dumps the reader right into the middle of the action as a power called The Blight has taken over the Earth, and many of its occupants including a majority of the aforementioned Legion.
What makes this story so awesome is that it does not try to run all of the Legion characters at you, but focuses on a few who have been able to hold out and build a resistance against The Blight. Characters are introduced but not in an overwhelming way.
The Blight are one of the nastiest villains ever brought forth (think Star Trek's Borg but with feelings). They have evolved into the characters we see ripping apart our home and it is their acquisitions that eventually turn on them.
Plus, another reason this book rocks besides the price (@ $7.99 that's $1.99 an issue) is Olivier Coipel's (Thor) artwork. It is not as refined as his stuff today, but it is still really good, unique and the man knows how to tell a story.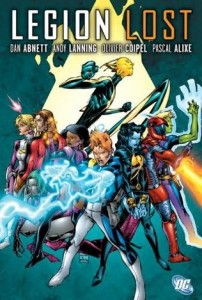 The Blight storyline, or "The Damned" arc as it is solicited, is an awesome gateway to the 12-issue mini-series Legion Lost by Abnett, Lanning, Coipel and Pascal Alixe. This mini-series leads to the new Legion relaunch which The Blight trio produced for the first year.
Legion Lost is exactly what it sounds like, several members of the Legion are lost in time and space and attempt to get home, while also searching for one of their missing teammates. Once again, Abnett and Lanning only focus on a small corp group of characters while filling in Legion back story and giving the reader a sense of the team's history.
In fact, each issue is told from the point of view of one of the stranded members, which allows readers to get to know each character while the continue to suffer through this dire and hopeless situation. The twists and turns and payoff are huge and worth the ride. I can only imagine what it was like to read this arc while it came out monthly. It has sort of a desperate Battlestar Galactica feel to it when the team comes to the realization that they may never get home.
There is also an epic Dark Phoenix sort of tale being weaved as well and readers will be surprised to find out just how this story played out.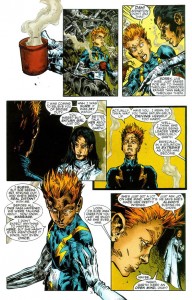 The only sad part about both tales is these are the only two Abnett-Lanning DC Legion collections, hopefully for now.
Both DC Comics Presents Legion of Super-Heroes #1 and Legion Lost HC are available at both Brave New Worlds locations.