There's a lot happening in the Worlds of Brave New Worlds Comics! Have you been watching closely!?
With the Earthquake on Tuesday and all the hype about this little girl named Irene who's coming to visit weekend you may have missed a few things that are going on at BNW (specifically Old City). Time to play catch up!
•Have you been to Old City and seen what Spidey is sporting this week!? Yea! That's
correct. Spider-man is now wearing the brand spanking newly redesigned BNW Official Shirt! Which you can get your hands on now in all sizes for just $14.99(2XL $17.99)!!!
•We had a whole post about all the sweet new merch go up the other day (OVER HERE) but since I'm sucha nice guy I'll post the info again right in this very post! Here ya go: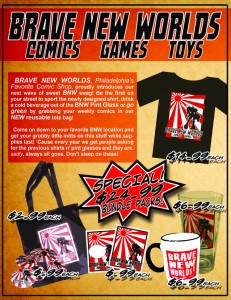 •This Tuesday night in Old City Rob and I will be up to no good for a while and then be up to lots of good as we see you Flashpoint #5 and Justice League #1 at Midnight! Information for that is OVER HERE . Also there's a Facebook event for this OVER HERE. So be sure to stay out late and bring your friends and get in on the ground floor for all of the changes coming to the DC Universe. For those of you who don't understand what I mean by that or why this is a big deal and may need more information on that last sentence CLICK HERE  and also CLICK HERE
•The First Friday Show in Old City this coming September 2nd is being presented by the Philly Comix Jam. There's info about it OVER HERE  and then go to the Facebook Event and say you're attending…that's OVER HERE. Be sure to come out to this because James Kochalka will actually be here! And then on Saturday he will be performing music (not at BNW but go to that too!!!!)