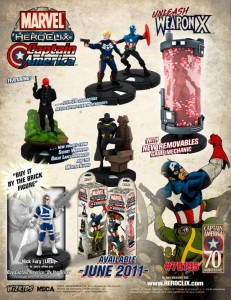 Captain America is mere days away from the theater but you can live out his adventures now at Brave New Worlds with the latest HeroClix set available at both Brave New Worlds locations now.
Starting Sunday, July 24 Brave New Worlds Willow Grove will be hosting weekly tournament play with prizes.
Jump for upcoming tournament dates and weekly team requirements.
Brave New Worlds also has bricks, 5-Pack and NEW 1-Pack Boosters available to purchase NOW!