Here we are. Another Friday and yet another Marvel Movie is making a huge splash…that coupled with San Diego Comic Con going on this weekend (really the entire week so far) prepare for innernette news overload.
In no way shape or form will I be anywhere near breaking any news and in all honesty most of the links I'll share here will, if they are current, will be really late to the party. So many of these links will probably be total nonsense…(but that's what I do best). I hope you enjoy!
•First off I hope everyone did their nerd/Patriotic duty and went to see Captain America at 12:01 AM this morning. Rob n I were there will bells on, of course, with a team of Howling Commandos in tow. I will say nothing more than I enjoyed the crap out of the movie and am very happy that there will be a generation of kids growing up with this as their favorite super hero movie.
•You may have seen the new Spidey trailer floating around the net…I knew it felt familiar (caus I'd wanted to play that game but never got the chance)….CLICK HERE
•I've already fallen behind the comics coverage and news coming outta San Diego. Here's some DC preview art (via Newsarama.com) CLICK HERE
•Lookit this crazy ass alien looking thing…I'll bet the FF will prob have to fight these at some point but they will probably be made huge by some ray or another. CLICK HERE
•Some sweet Shark Week stuff (yes it's another link from the Huffington Post) CLICK HERE
•You may have seen that we recently started stocking the Street Fighter Blind Box Toysfrom Kid
Robot…but did you see the trailer for the new edition of Marvel Vs Capcom CLICK HERE
•Wanna watch a sweet animation? Sure you do. CLICK HERE
•You may know that I cannot stand Greg Land's (f)artwork. I suffer through the issues of Uncanny X-Men (a book I really enjoy) when he's on art chores. But while reading X-Men Schism I did point out to Rob that the one guy looked like the Iranian President Ahmadinejad. This blogger over at Newsarama poses an interesting question  CLICK HERE
•I hope you all read the new Jonathan Hickman book that came out last week. It rules.
•I don't normally play this type of game but man this looks fun CLICK HERE
•Frank Miller's Holy Terror (sans Batman) is finally coming out (in 2 months) CHECK IT OUT
•This link may be a little late to the party, but, Parents do you know where your kids are? CLICK HERE
•Conan has arrived at SDCC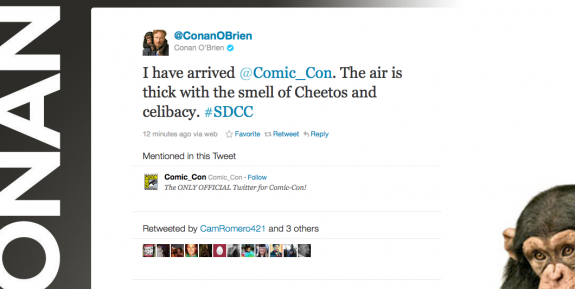 •Speaking of Conan CLICK HERE
•Did you see the episode of Brave and the Bold with the opening that featured SPACE GHOST!? No? It's awesome! CLICK HERE already!
•Alec Baldwin and his undies CLICK HERE
•This was from last week (i know i should have blogged it then) but that doesn't mean it's not funny this week. Also I never saw the original CLICK HERE
•And I'll leave you with a song, which just played on my ipod, from a Philly band that i love, The Extraordinaires. Enjoy and have a great weekend. CLICK HERE