Philly's own Philadelphia Cartoonist Society is having another Art Show with us on August 5th! Get ready for their twisted version of the Alphabet only at BNW Old City!
"Drawn to Letters"
An art show that features both the characters of the Alphabet and the Philadelphia Cartoonist Society.
August 5th to August 31st
Opening Reception August 5th from 6pm to 9pm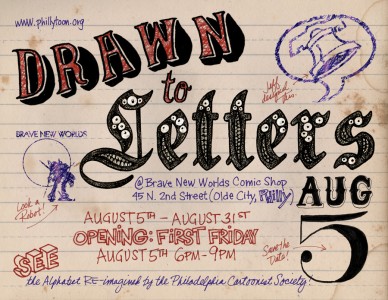 (check out the Facebook Event here)
"The 26 characters of the English Alphabet are what we rely on to communicate in our society. Whether text message, e-mail, signage, books, or your Facebook status it boils down to knowing your P's and Q's. The Philadelphia Cartoonist Society is out to prove that these emblems of communication are built upon, well, character. Each member of the PCS will be interpreting one letter from the Alphabet to be on display at Brave New World Comic Shop this August. From paintings to pen and ink, cartoons to chiaroscuro, all the art will be priced to sell for those who are graphically inclined. From images to icons this exhibition will be one you won't want to miss.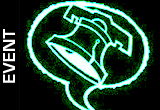 The Philadelphia Cartoonist Society is a group of cartoonists living and working in Philadelphia. Since 1997, with over 80 members on our mailing list, the PCS has been actively participating in the cartoon and comics community in Philadelphia and its surrounding area. The Philadelphia Cartoonist Society prides itself on contributing to a wide variety of local charities and causes."