Leonardo leads, Donatello does machines, Raphael is cool but rude (give him a break) and Michelangelo is a party dude…together they are the Teenage Mutant Ninja Turtles. They are also the focus of the BNW First Friday Show tomorrow night in Old City: Shell Shock!
Whether you love being a turtle or do you just like turtles you should probably get down to our Old City location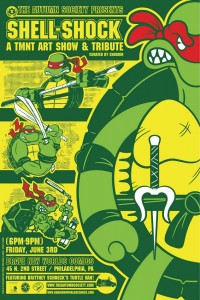 for tomorrow nights Shell Shock TMNT tribute show! The Autumn Society has returned and brought with them one Shell of a Show! They only acceptable reason I can think of for NOT being at this opening is if you ate some bad pizza (that you erroneously left out in your sewer lair 'cause you had to flee the city to escape a hoard of ninjas who attacked your friend's apt and the antique store she lived above and spent a weekend in a country house fixing a van and chopping veggies with a sword and all around getting in touch with who and what you are) and just can't seem to make it out the door. With the caliber art that is on the wall (I watched 'em hang all the pieces last night and they all rule!) you are def gonna wanna come out and bring some cash to decorate the walls of your Foot Clan Base like apartment or house.
The show will be kicking off around 6pm in the lobby of our Old City shop (even
tho First Friday seems to start attracting crowds earlier and earlier each month). All the pieces will be for sale (and I have a feeling they will be going really really fast) and I think many of the artists will have other stuff available on the night of the show. The official opening will gear down around 9pm but BNW will most likely be open until 10pm. We do ask, however, that any piece(s) you purchase, on the night of the show, stay on the wall until at least 9pm, so others can see the show in it's entirety.
Oh yea…did we mention there will be a kick-ass homemade DIY Turtle Van making an appearance!? We forgot to mention
that?! How silly of us. Brittney Schneck built this awesome machine and it will be here!!! CHECK IT OUT…Trust us you don't wanna miss it!
Who: The Autumn Society/Brave New Worlds/Leo/Raph/Mikey/Donnie/April/Casey Jones/Splinter/Shedder/Bebop/Rocksteady/Krang/Metal Head/Leather Head/Vanilla Ice
What: Shell Shock TMNT Tribute Show
Where: BNW Old City (45 North 2nd St Old City Philadelphia PA 19106)
When: First Friday June 3rd 6-9pm
Why: T•U•R•T•L•E POWER!
How (Much?): Coming to look at the show and talk to the artists is Free. The prices of the pieces will vary.
For the Facebook event page CLICK HERE
For more on The Autumn Society CLICK HERE
For more on the TMNT CLICK HERE