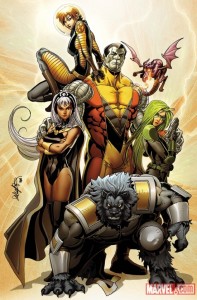 Astonishing X-Men #38
Christos Gage (w) Juan Bobillo (a)
Blame Joss Whedon is how I would like to explain my perennially high expectations for each monthly edition of the Astonishing X-Men. And sadly, since Whedon's awesome run which elevated the title to the stratosphere of the moon, the creative teams have not really got my mojo rising with their stories and artwork ever since.
That all changed two months ago when Daniel Way and Jason Pearson assumed the creative chores, launching their "Monstrous" storyline in issue #36. Granted, the jury is still out whether Way and Pearson have the same substance of Whedon and Cassaday (and maybe those comparisons are unfair), but I found myself enjoying Astonishing X-Men for the first time in a long time.
Then after two issues, smack dab in the middle of the "Monstrous" story, the Powers That Be at Marvel or editorial decided to slip in this new story, taking a break from the monsters. And if you know anything about monsters, that is never a good sign.
So, with as much reticence that John Adams had when he first arrived at our nation's first continental congress hundreds of years ago (like how I am comparing reading the X-Men to the birth of our freedom, which in turn allows us to read the X-Men?) I opened this week's offering of Astonishing X-Men.
My first thought was, "admiral, there be whales (whoops, wrong quote), monsters" in here.
That's right, that sneaky Gage brought back the Brood. Now you are probably thinking to yourself so what, been there, got the t-shirt and larva to prove it. Granted, you would be correct in assuming that you have read all potential Brood tales in the past pages of the X-Men. But see, things are a little different now for the Brood, as they teeter on the brink of extinction thanks to the events in Annihilation. Additionally, our top-secret alien group known as S.W.O.R.D. has learned how to neuter the slime bags.
So that is where we are, on the precipice of being mighty (Serenity reference y'all). Two fun monsters stories in one book, at pretty much the same time. I know it will be difficult to juggle, but I have faith in all of your abilities to figure out what actually is happening from month to month.
I also forgot to mention that this week's issue also contains a reunion that most of us have been waiting 13 issues for (in Astonishing X-Men time that's like 18 years).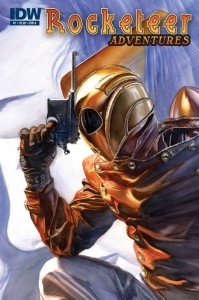 Honorable Mention shout-out goes to IDW's Rocketeer Adventures #1 this week. This mini-series takes the classic Dave Stevens created character and gives some of the industry's top and brightest talent a turn at the steering wheel, with each issue containing short vignettes of everyone's favorite rocket man. Of the three tales that appeared in the debut issue, my favorite would have to be the first – written and drawn by John Cassaday. We jump right into the middle of all the action as Betty is being held against her will (of course) by Maroni and his men as Cliff attempts to once again, save the day. Cassaday's page layouts are fun and the characters appear as if they were drawn by Stevens himself (the finest compliment I can pay). But wait, there is more, as Cassaday's writing is also very good capturing the characters mannerisms and of course, fun. Mike Alldred supplies the second story (which was decent, just not an Alldred fan) and Kurt Busiek and Michael Kaluta bring it home with a tale of loyalty and war. Overall I would give this a thumbs up, especially for fans of Stevens' Rocketeer and those nostalgic for his original run.