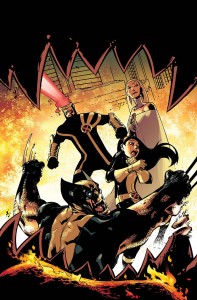 Astonishing X-Men #37
Daniel Way (w) Jason Pearson, Sara Pichelli, Karl Story (a)
It's been awhile since I raved about an issue of Astonishing X-Men. In fact, it was way, way back when a certain scribe of the slayer of vampires and horrible doctor's was penning each issue. Thankfully there are some new reasons to be excited by a title with both the X-Men and Astonishing in it.
The reasons are three-fold; new creative team of Way and Pearson (with a little help by Pichelli), Monster Island and family. The last part choked me up just a little (just a little).
Anyway the X-Team returns to Tokyo escorting Armor home to take care of some sad family business. Unbeknownst to them someone is messing with the folks who live on Monster Island – yep, you guessed it right, those folks be monsters – one of which is now living large in downtown Tokyo.
So we got Cyke, Emma and a certain raging Canuck trying to tame a dragon while Armor is MIA. Really, this does not do the story justice. It's just a good old fashion monster story. Way writes some awesome action scenes which the art team brings to life. But for my money in this issue, it's the plight of Armor that really got me. Yes, monster fighting is always fun (never really gets old does it?), but the heart of the issue is Armor. Check out the close-up panels of her with her Dad – they are awesome.
Anyway, that's where I am at. Astonishing X-Men #37 is actually part two of the story titled, you guessed it, "Monstrous!"
Flashpoint
Geoff Johns (w) Andy Kubert (a)
While Marvel Comics Summer event, Fear Itself, is already two months old, DC Comics addition to the spectacle seems to have more promise, focus and excitement surrounding it as Flashpoint #1 release this week.
With any summer comic event there will always be a lot of pre-hype, speculation, comparison and ultimately griping. The negatives will be we have been there before, seen that and have the t-shirt. There is a lot of talk how Flashpoint is just a big Elseworlds stories. Granted, even if that were true, I'd still be interested in reading it. However, that is not the case as Flashpoint does for the DC Universe what House of M did for Marvel  (there goes those comparisons again).
Mirroring Marvel's Fear Itself, DC's Flashpoint will launch what seems like a thousand different three-issue mini-series. I like this concept that began during the Civil War and has seen both companies successfully adopt its strategy for each event. Read the main story and decide which side tales interest you, and then follow them. If you just have to know everything, well then you know what you have to do.
Now to the story, which surrounds Barry Allen, aka as The Flash. Issue one begins with a narrator explaining that they are not the hero which probably leads us to believe that they are not Allen. Something happened, although we are not quite sure what, that changes everything, and we do mean everything.
In the first couple of pages we see Allen at his normal job working on a case. His regular co-workers and boss are there. But that is where the similarities end. This is an entire new world and it is fun to watch Allen attempt to figure it out, from his trying to go all "flash" when an emergency erupts to the several revelations he discovers by issue's end. Wait until you see the big reveal at the end.
I like how Johns lays the story out, following the mystery from a few different viewpoints. Obviously Allen's is one of the most important as he is the character we most relate.  But there are other familiar yet different people.
I don't like to give spoilers, but the following is already out there with the release of all the mini-series titles coming very soon. Aquaman is Emperor of Atlantis and Wonder Woman is Queen of the Amazons and they are both looking to sit atop the throne of the world, the one they rule. And the possibilities only get better.
Many of the upcoming mini-series are teased in the issue, including Lois Lane and the Resistance, which I for one am eagerly waiting.
Kubert's layouts are his usual best and the colors used for the issue really bring some of the dialogue alive in a book which turns out to be more talk than anything else. And that's the thing, there are lots of revelations and seeds planted for this five-issue mini-series, but you never feel bored or wait for the moment when the fists fly. It's that good.
I highly recommend Flashpoint for any fan of the cape books and those who like alternate reality takes on their favorite characters. Brave New Worlds has plenty in stock at both locations. Also watch out for the mini-series coming in the next few weeks which will also feature a specific button to go along each first issue.
And if you did not read House of M, check out Brave New Worlds must-read sections as it will be residing right there waiting for you to pick it up. Trust me, you will not be sorry.