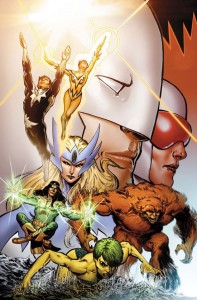 Alpha Flight #0
Greg Pak, Fred Van Lente (w) Ben Oliver (a)
I love it when a Marvel book comes with a "classified" listing. It basically leaves the plot up to my imagination. I believe it really has something to do with Fear Itself, but when did that stop me from musing about Puck and Sasquatch moving in together like The Odd Couple. Turns out that Sasquatch is a neat freak but Puck, well he likes to throw his trash everywhere. You know you want to see if my prediction is the real one.
Avengers #13
Brian Michael Bendis (w) Chris Bachalo (a)
A Fear Itself tie-in, the Avengers once again need to provide the last line of defense against evil as the Earth is threatened by the God of Fear. I wonder if he is related to the First (evil) from Buffy the Vampire
Slayer. Remember those Turok (spelling has to be wrong on that!) vampires, those buggers were difficult to kill. I mean, I did not kill them, but it looked hard on the tele.
Batgirl The Flood TP
Bryan Miller (w) Lee Garbett, Trevor Scott (a)
If you have read anything I have written on this website then you know I like when comics bring the fun

in. Miller's Batgirl does just that. Don't believe me, check out the second Stephanie Brown Batgirl collection this week, compiling issues #9-14. This one has The Calculator is his crazy quest to uncover the true origin of Oracle. Guess who gets in his way?
INDIE SPOTLIGHT Liars Kiss HC
Eric Skillman (w) Jhomar Soriano (a)

Showing the small guys some love this week, Brave New Worlds will be stocking this nifty little crime noir story about a dude (not The Dude) who is not much of a detective (great selling point eh!). Despite his limitations in that department he scored a pretty sweet job taking photos of this guy's wife to prove she is not cheating. You can probably guess where this is going. The devil (just for Eric) is of course in the details. Show some of your love for the smaller companies and pick up this release.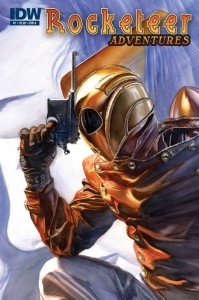 Rocketeer Adventures #1
Mike Alldred, Kurt Busiek, John Cassaday (w) Various (a)
Somewhere Dave Stevens is probably smiling as IDW has revived his epic character after 30 years of silence. A bunch of the industries top talent work on this anthology mini-series. I know Chris Beaumont is getting one, and of course I am required awesome because the only individual who's love for all things Rocketeer rivals Chris is me. Aw Yeah!
Snake Eyes
Chuck Dixon (w) Robert Atkins (a)
Because Chuck Dixon is not writing enough monthly G.I. Joe stories, here comes the silent man's very own monthly title. With Snake Eyes back in the Joe fold he gets trapped at the top of world with you know who. The Cobra Civil War builds to its conclusion in this issue. And just why is it called a Civil War? It's not like they are being nice to one another. Since when

is killing civil I ask you?  Well!
Star Wars Jedi Dark Side #1
Scott Allie (w) Mahmud Asrar (a)
Because you asked for it, nay demanded it (btw I have seen Thor twice and should start to speak in Asgardian tongue all the time nave) Qui-Gon Jinn gets his very own mini-series. Before the prequels,

before Obi-Wan was his apprentice, heck before Darth Maul made him toast (with regards to Weird Al), Qui-Gonn was like a secret operative for the Jedi, on a mission to the dark side – like how I tied that into the title? It's how I roll and I am available for bah mitzvahs.
Ultimate Comics Spider-Man #158
Brian Michael Bendis (w) Mark Bagley (a)
Remember what happened at the end of last issue? Well you might be surprised at what happens in this issue. Then again, you might not. However you probably have certain expectations and all I am saying

is while those expectations might eventually be realized, this death story ain't over yet. Remember, it ain't over til the fat lady sings or of course the spider dies.
X-Men Giant Size #1
Christopher Yost (w) Paco Medina (a)
Nostalgia is the keyword for this Yost written tale as something happened years ago to the original X-crew back in the day that was so secret it's just being revealed now, and we are talking like 50 some

years ago Yo. Well this one takes us to the darkest place in Cyclops mind, besides the place where he hangs out with Emma obviously. And oh yeah, something about the Evolutionaries as well. 'Nuff said.