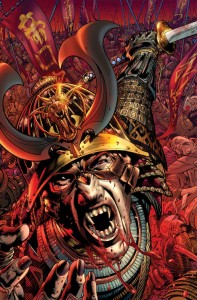 Tomb of Dracula Presents: Throne of Blood One-Shot
Victor Gischler (w) Goran Parlov (a)
Tomb of Dracula Presents: Throne of Blood is the story I was hoping Gischler's X-Men/Vampire crossover was going to tell when he launched his new X-Men title last year. After being teased with all the political machinations, intrigue and betrayal in "The Death of Dracula," I had a desire for more of the same in the crossover with Marvel's favorite mutants.
The story was entertaining and I really liked some of the ideas Gischler introduced including the turning of Jubilee and ongoing concern of Storm's past seduction with Dracula. However it never seemed to go back to the world established in the death one-shot, a world of vampire sects held together by Dracula, but brought together by his one son in a mad quest for ultimate power.
Don't get me wrong, this week's Tomb of Dracula one-shot does not as much dig deeper into the sects as merely revisits. Gischler uses the time-old trick of flashback to tell the story, but what an entertaining story it is. One of the sects comes to Dracula in order to hunt down a rogue vampire. In order to find the vamp, Dracula posits one must know the vamp and thus our story of two brothers begins.
In the end, we all know where this story is going to wind up. This issue is all about the journey rather than the destination. And it is a journey of heartbreak, betrayal (as only a human possessed by a demon can accomplish) and ultimately giving in to a new world order. It's the journey of the main character that ties you to this story as that character starts off trying to do what's right.
Gischler needs to stay away from the capes and superheroes of the Marvel Universe and focus rather on its undead dwellers as his voice seems a perfect fit. Vampires are the new in things, although they really are so yesterday already. But that being said, Vertigo and Marvel have both been able to jump on the bandwagon and give audiences some really juicy vampire stories this past year.
For his part, I would like to see Gischler further develop this world of vampire sects. And if he needed a little help along the way, I could think of no one better to assist than Brave New Worlds buddy Duane Swiercyznski.
And another note about this issue, I was not really impressed with Goran Parlov's art in his Marvel debut in Marvel Universe vs Punisher. I am not sure if it was the different tone of the book or what, but his style was just not doing it for me. That said his artwork in this issue is stunning, simplified and compliments Gischler's words very well.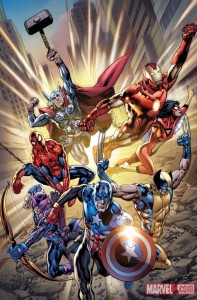 Avengers #12.1
Brian Michael Bendis (w) Bryan Hitch (a)
Each issue of Avengers since Brian Michael Bendis launched this latest iteration last year is like reading a mini-summer blockbuster movie. They are that good. So, it should come as no surprise that the latest Marvel point one issue is a huge success in introducing the Avengers to new and casual readers while also pushing the ongoing arc forward for current subscribers to the title.
I have enjoyed many of the Marvel point one offerings thus far, especially Amazing Spider-Man and Invincible Iron Man, but often times I felt as if Marvel's three-headed goal often failed. Maybe it was the way the writer approached the issue, or maybe it was the fact that many came off like an annual story. But for whatever reason the one issue that really seemed to hit a homerun in terms of capturing all three demographics was this week's Avengers point one.
I am a big drinker of the Bendis kool-aid. Let me get that out right away. His writing style just connects for me. I love the humor he interjects and he paces the story well.
As for accomplishing the goals of the point one endeavor, let's take a look at how Bendis goes about it with this issue. First he takes care of current readers to his title but presenting an awesome reveal at the end with a classic Avengers character as well as referencing some things that have occurred in the issues prior to this one. Bendis has already brought us Kang and the Infinity gems in less than a year, but that was nothing entering his 13-month at the helm.
Now, new and casual readers, which can be a difficult task as there are what seems to be a bajillion Avengers with the regular team, new team and of course the secret team. Readers can become confused almost immediately. So Bendis begins the issue presenting the audience with not one, but two mysteries that move everything along. He hooks readers into the story with one of the two, and keeps you as events unfold in a classic search and rescue story that turns out was nothing more than the maguffin to gets us to the final three pages.
I have not been a big fan of John Romita Jr's artwork on the regular title as it seems like he just rushing everything. This special point one issue is drawn by veteran Bryan Hitch whose work also seems to have taken a downward turn of late. That said, the time off seems to has benefited Hitch whose work appears to be its cleanest in years this time out.
All in all, there were a lot of books out this week, for my money (literally) I really enjoyed these two. How about you?