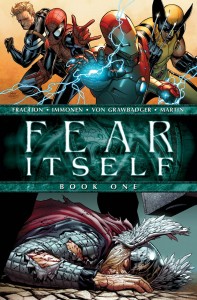 Fear Itself #1
Matt Fraction (w) Stuart Immonen (a)
Cynics will tell you the next big Marvel event is here and who cares. I am not one of them however. I am all about the event, especially if it is done correctly. If issue number one of Fear Itself is any indication, this one is going to be a doozy. And the repercussions have already begun by the end of the first issue.
Sin's story and quest for her father's hidden power continues and answers are revealed in the very first issue. Unlike Lost, one mystery is revealed only to lead to another new mystery. But wait, there is more …
The sneak previews of the issue focus on Tony Stark and the Avengers publicly discussing the rebuilding of Asgard. With the return of a major player in the pages of Thor over the past few months (a Fraction written book), things are going to change for our favorite God of Thunder. And I so did not see that coming.
Besides Sin and Asgard, there are other seeds planted in the issue that give Steve Rogers an opportunity to take center stage. The new Marvel Universe is here, and for the most part, all is good in the world. Until now that is.
When I finished reading the issue, I did not want it to end. The greatest compliment I can really pay any weekly floppy. Don't take my word for it however, jump in and see what all the fun is about.
Avengers Children's Crusade #5
Allan Heinberg (w) Jim Cheung, Mark Morales (a)
This is issue is all about four characters who for the most part have not appeared in this mini-series until now. Each's return has a major impact on events in the issue and most likely moving forward.
Heinberg continues to peel away the layers of the onion with each issue, all along presenting new questions with each discovery.
With at least another six months before this nine-issue series ends, it is never too late to jump on board.
And even though, including in this issue, the fireworks have flown especially with Doom and Magneto, you know this is really just the start of things to come. And if the children's crusade is realized, what then?