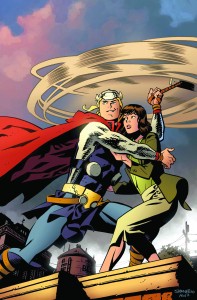 Save the date as the lords of Asgard descend on Brave New Worlds Willow Grove for our next book discussion on Saturday, April 30 at 7 p.m. as we discuss the literary and heroic merits of Roger Langridge and Chris Samnee's critically-acclaimed eight-issue run of Thor: The Mighty Avenger. Hit the jump for more information.
Just in time for the release of the feature film Thor on May 6, Brave New Worlds Willow Grove's next book discussion will focus on the Asgardian God of Thunder himself in Thor: The Mighty Avenger volumes one and two.
It's been a thousand years and Thor returns to Earth in Oklahoma. However, he is not the Thor the Marvel Universe has come to know or even expect.
The nice thing about Langridge's take on Thor is that is does not get bogged down in regular Marvel continuity. In fact, it is not a part of Marvel's continuity, rather just another take on Thor that may be easier to digest for casual or non-fans. It is actually a terrific introduction into the character and some of the obstacles he may encounter in the film as he literally falls from grace.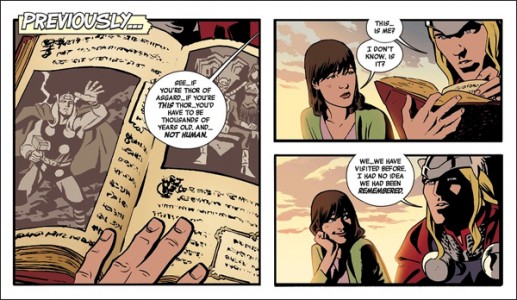 Langridge changes up the relationship with Jane Foster a bit, modernizing it and offering a new and fresh approach for readers. Meanwhile, Samnee's storytelling in pictures is simplistic and perfect for what the book is about.
And do not worry too much about Marvel continuity. While readers don't need a who's who to the Marvel Universe, we do find that Thor is part of a much bigger world when reading the abbreviated run.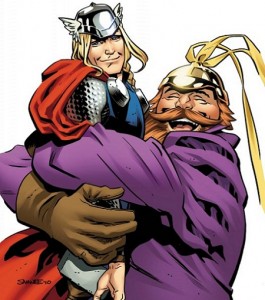 Part of the problem for this title on its run was finding its audience. Marvel might not have effectively been able to locate and nurture that audience for what is really a well done book.
If you want a Thor book free of continuity that's just fun, great art and dynamic character work, give this a look. Comic Book Resources
See you on the 30th!