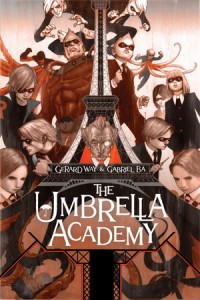 Three other Dark Horse Comics properties that people often wonder about are The Goon, Criminal Macabre and Umbrella Academy.
The Goon and Criminal Macabre are going to get a one-shot team-up by Eric Powell and Steve Nile in June with another Criminal Macabre one-shot to follow before that character takes residence in the newly-relaunched Dark Horse Presents, out April 20.
As for the family of heroes in the Umbrella Academy, unfortunately Daniel Way is pretty busy and most likely will not get to anything anytime soon as he is currently working on Killjoys for Dark Horse, which the company hopes to see released in 2012.
That's it from us Ray Conniff, cheese-puffing loving, moon writing fans.