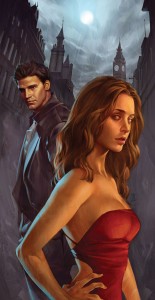 Dark Horse Comics at Wonder-Con in San Francisco had some interesting news on the Buffyverse and some of their other titles as well.
First, Buffy will be returning with Season Nine in September, a 25-issue run with the first book written by Joss Whedon before he hands the reigns over to Whedonverse disciple Andrew Chambliss (who wrote for Dollhouse, as well as Vampire Diaries and Heroes). Georges Jeanty will be drawing the monthly book once again.
But before Buffy returns this summer, check out the start of an Angel/Faith 25-issue series written by Christos Gage (Avengers Academy) and drawn by Rebekah Isaacs (DV8, Gods and Monsters). Angel returns to Dark Horse Comics in a big way this summer as he travels to London with Faith, both of whom are still reeling from the devastating events in the Season Eight finale.
Also look for the return of Spike and his Bug Crew as well as some of the other Angel supporting characters (Illyeria, Connor, and others) as stories make sense for their return.
Scott Allie also said look for some mini-series of Buffy characters including a potential Willow run and a visit back to the universe of Fray.
Due to the heavy Buffy-centric  mission, don't look for any new Serenity titles anytime soon. However once Whedon gets finished with his little movie called The Avengers, look for him to get busy with that other 'verse of characters he created.