Amazing Spider-Man Annual #38
John Layman (w) Lee Garbett (a)
Another Marvel three-part annual story, "Identity Wars" begins right here, right now. The set up is a little curious, an explosion at Horizon Labs sends Spidey, Deadpool and the Hulk into a new dimension where everything is perfect for our friendly neighborhood wall crawler – think Tony Stark's life. Obviously this probably does not spell out hugs and kisses for the merc with the mouth and the big irritable guy. Part two comes out in May.

Boys TP Volume 8 Highland Laddie
Garth Ennis (w) John McCrea, Keith Burns (a)
This one spotlights everyone's favorite Scot, no not Star Trek's Scotty, but the Boy's Hughie. Hughie returns home after the recent mind-numbing events, however as much as he is looking for a little piece ala Jean-Luc Picard in the TNG episode "Brothers" after he was abducted and assimilated by the Borg that is obviously not going to happen. Not much of a story otherwise. So let's see what happens when Hughie runs into the old gang, and No I don't think Scotty is among that posse.

DCU Justice League Unlimited Action Figures
The series might be over, but reliving your favorite adventure is only limited by your imagination and the lack of your favorite character's figure. We can help with the last part, unfortunately you are on your own for the first. This week sees the latest JLU action figure release – we will have Batman, Superman, Green Lantern, Firestorm, Green Arrow, Plastic Man and many more. And did you see, Plastic Man! Aw Yeah!

Doctor Who Dalek Exterminate T-Shirt
For all of our Doctor Who fans, and you know who you are, we are getting you some swag this week. And how awesome will you look in this Doctor Who Dalek T-Shirt. Of course if they are putting the Daleks on the shirt, they will be trying to kill anyone and everyone, hide your cats. Sizes will include medium-xxl.

Fables TP Volume 15 Red Rose
Bill Willingham, Mark Buckingham (w) Various (a)
A New York Times bestseller, the next chapter of the wacky adventures of our favorite fairy tale characters is here.  As the title suggests, Rose Red is back, and she is not in a great place. Obviously her sister Snow White is going to have a little fun dealing with the latest from our favorite crazy sister. Collects Fables #94-100.

Fear Itself #1
Matt Fraction (w) Stuart Immonen (a)
Let's face it, the world sucks and the only relief some of us have are these awesome stories. Well forget that now that Marvel has decided to latch on to the ever-growing hysteria that all the world's crisis are providing on a daily basis. Turns out the Red Skull's offspring has relocated a former prized possession of dear old dad which will make all the Marvel heroes afraid, of a lot of fun things. Whatever is going on, the next big Marvel summer event is starting now. Still on sale at Brave New Worlds is the setup issues – Fear Itself Prologue.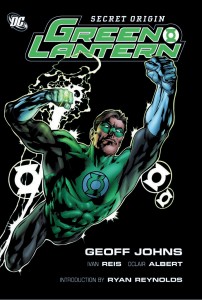 Green Lantern Secret Origin TP NEW PRINTING
Geoff Johns (w) Ivan Reis (a)
If you have yet to read about Hal Jordan's return to the DC Universe or are a brand-new reader and want to catch up on the GL before the movie hits screens in the coming months, have we got the starting point for you. Not only is this a terrific story by the mind of Geoff Johns it only costs $15 (which means you get value plus another credit towards our rewards program). Collects Green Lantern #29-35 and is the setup for last summer's Blackest Night. Enjoy.
Herc #1
Greg Pak, Fred Van Lenter (w) Khoi Pham (a)
The details about this one are being held close to the vest by the Marvel Powers That Be which leaves me to my own devices. What we do know is that Hercules has returned to the Marvel Universe. Now my guess is he returns as a zombie and decides to become a star on Broadway. But because he does not have

a musical background he gets nowhere until one day he walks into a Burlesque club. There he begins by waiting tables until one day he gets his shot to sing, and then of course awesomeness and a legendary time is had by all – but I am just guessing on all that. Herc is back.
JLA 80-Page Giant 2011 #1
Various (w/a)

Right now in the monthly Justice League title, Eclipso is systematically taking out the squad so DC decided to give readers a glimpse at another non-Eclipso butt-kicking tale. This time the JLA gets their butt kicked by the Demon, Zatanna and other mystical foes and friends. Good times.
Superman Batman Annual #5

James Robinson (w) Miguel Sepulveda (a)
Doomsday's Reign continues picking up from Justice League of America #55. Supergirl and Batman are stuck on the JLA satellite with the old rock head and Cyborg Superman. I don't know about you, but it does not sound like everyone is going to have a bbq up there. Besides a gas grill on the satellite does not sound like the safest thing. Not that Doomsday on the station is a good idea other, but there are certain types of crazy that you just can't do anything about – Lane, Crackheads (unless you have pepper spray) and Doomsday being the other.