Action Comics #900
Paul Cornell, Richard Donner, David Goyer, David Lindelof (w) Pete Woods, Jesus Merino (a)
He's Back! That's right. The big guy with the cape has been absent from his debut book for a few years now. Not that we are complaining after the past year's Lex Luthor centered stories, think Dark Avengers only with more arrogance. All that changes with this issue as Superman returns in this milestone book as he goes mano y mano with one certain mad bald dude. Plus other tales from some of the industry's best and brightest.
Amazing Spider-Man #659
Dan Slott (w) Stefano Caselli (a)
Marvel has decided to leave us to our own devices when it comes to this week's Spidey as they have

included no information save "classified." So we have to guess what this week issue is all about. My first thought is Spidey was shooting for some bubbling crude, black oil and then his family said Spidey you need to move away from here and that's when he decided to move to Beverly.
Avengers 12.1
Brian Michael Bendis (w) Bryan Hitch (a)

Bendis and Hitch together for this one special issue of Avengers. If you have not been reading Bendis new Avengers you have been missing what feels like a movie in every issue. The first two arcs have centered on Kang and the Infinity Gauntlet. The latest Marvel point one issue is a great jumping on point for new and casual readers. Plus, if you have been reading you sure don't want to miss this one as the Avengers have a lot going on. Spider-Woman is gone! Return of SWORD! And of course the Intelligenica as well.

Brightest Day #24
Geoff Johns, Peter Tomsai (w) Ivan Reis, Pat Gleason, Ardian Syaf, Scott Clark, Joe Prado (a)
The finale starts here. Twelve heroes and villains were resurrected. Will all remain? Will one be Earth's new chosen hero? Will Billy Campbell make a cameo and go all 4400 plan on the 12? Will I stop asking questions? All this and more as the end of Brightest Day begins now.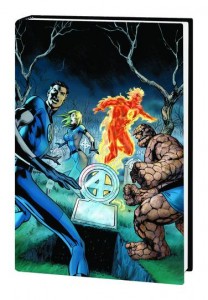 Fantastic Four by Jonathan Hickman Premium Hardcover Volume 4
Jonathan Hickman (w) Steve Epting, Nick Dragotta (a)
This is it! This is the one where the famed Fantastic Four are no more. And this one pulls out all the big hitters – Doom, Galactus, the Yancy Street Gang and of course the Thing turning back into Ben Grimm. What more could you ask for from this phenomenal run by Hickman on the World's Greatest Comic Magazine. Collects Fantastic Four #583-588.

Flash #11
Geoff Johns (w) Francis Manapul (a)
Flashpoint is approaching and the seeds are sitting in this little ol' issue of The Flash. After waiting months for the next issue of The Flash to come out, DC gives us our second issue in three weeks. Barry Allen is chasing after Barry Allen as more becomes revealed for the coming Flashpoint event in the DC Universe. The Road to Flashpoint continues here.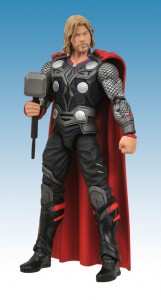 Marvel Select Thor Movie Thor and Loki Action Figures
From Asgard comes the next release of the awesome Marvel Select figures – movie versions for the upcoming Thor movie of Thor (of course) and Loki. These generally sell out fast so plan on grabbing yours right away. Brave New Worlds also has stocked up on previous releases including movie Iron Man, Juggernaut, Hulk, Thing, Magneto, Cyclops, Spider-Man and many more.
Mighty Thor #1
Matt Fraction (w) Oliver Coipel (a)
The "mighty" is back in Thor this week as Journey Into Mystery took over the other Thor title a few weeks back. This is where the story continues as Coipel returns to the God of Thunder! If you have yet to check out Fraction's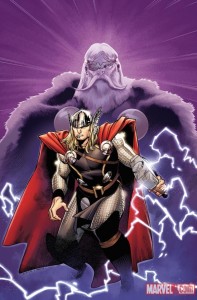 work on Thor, now is a perfect jumping on point.