Akira Kodansha Graphic Novel Volume 6
Katshurio Otomo (w/a)
The unofficial birth of manga and anime continues in collected form as Dark Horse presents the sixth volume this week. It's a tale as old as time, you know two friends do everything together, grow up, become adults and then one day, whamo! super powers. I hate it when that happens. However, it begins to get fun when the government targets those powers, and we are not talking Twister fun either. And in case you are worried about jumping into the story at volume six, no worries, Brave New Worlds also has the previous five volumes in stock and patiently awaiting your purchase – it's the way we roll.
Dan Clowes Mister Wonderful Love Story TP
Daniel Clowes (w/a)

Eisner-Award winner Clowes is back with a story that is probably the most heartfelt piece he has ever written, Mister Wonderful Love Story was originally published in serialized form in the New York Times. Marshall is a divorced, middle-aged and unemployed catch, on his first blind date, one which shows up about an hour late. However, when she shows up, Wow! Va-va-voom. Of course this being a story, the date itself should be a story in itself, and it is.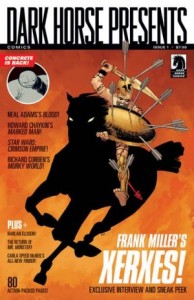 Dark Horse Presents #1
Frank Miller, Harlan Ellison, Howard Chaykin, Neal Adams, Richard Corben, Paul Chawick, and more (w/a)
Dark Horse's analogy is back and this 80-page issue is jam-packed with a who's who from the industry – and not just any names, but the giants. There is a new Concrete tale, a new Star Wars Crimson Empire story and an exclusive first peek at Miller's prequel to 300, Xerxes.
Invincible #79
Robert Kirkman (w) Ryan Ottley, Fco Plasencia
The Viltrumite war is over and Invincible returns to Earth. But of course it's just not as simple as that as he returns home to find things not as he remembered. Of course

now I have to wonder, is this the result of a time jump, another dimension, black or worm hole?Questions, questions and more questions this week in the pages of Invincible. Wonder if we will get to see the alternate universe Olivia as well? What? Can't I throw some Fringe love in here?
Laura Lee Gulledge (w/a)
This one is perfect for the teen is your family who stays away from the cape books but might be hip enough to read a comic. This is the story of Paige (of course) who juts moved to New York City and is a little overwhelmed by the big city, who wouldn't be? So she does what any normal kid would do, she starts coming up with different identities in her sketchbook, and this is where I story really begins.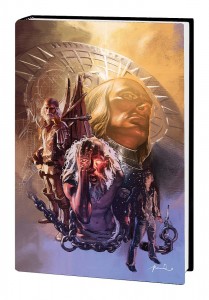 Shield HC Architects of Forever
Jonathan Hickman (w) Dustin Weaver (a)
Remember that completely different mentioned in the opening tease? Well if you are looking for different here it is as Hickman takes Marvel's super counter-intelligence team S.H.I.E.L.D. and populates its members with Isaac Newton, Imhotep, Galileo and more. Long before there were super heroes defending the Earth, there was these dudes.  Collects S.H.I.E.L.D. #1-6.
Super Dinosaur #1
Robert Kirkman (w) Jason Howard (a)
From the mind of The Walking Dead, Invincible and Astounding Wolf Man comes a brand-new book with a Dinosaur as its hero Yo. Turns out there is this evil dude by the name of Max Maximus that wants to take a trip to Inner Earth where the dinosaurs live. He is
looking for a powerful mineral that exists only there and it turns out our new hero Super Dinosaur along with his pal Derek Dynamo can stop Max as the fate of EVERYTHING rests solely on their shoulder. I don't know about you, but I'm getting two of these.
Zombies vs Robots Undercity #1
Chris Ryall (w) Mark Torres (a)

Admit it, you were hooked on IDW's Infestation and kind of wishing it did not have to end. Well guess what – it's not ending. Turns out just because the event ended does not mean the Zombies left. And that is where the fun starts. So the survivors head underground to their, wait for it, Undercity, where another threat looms, of course.