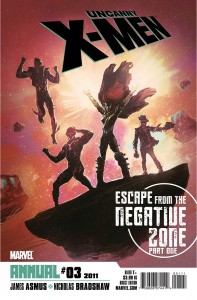 Uncanny X-Men Annual #1 (2010)
James Ausmus (w) Nick Bradshaw (a)
"Escape from the Negative Zone" Part One harkens back to a time in the late 80s and early 90s when Marvel attempted to make their annuals more relevant by tying them into one another and telling one big tale. The most successful attempt at this was Uncanny X-Men Annual #9 and New Mutants Special Edition in which our hapless mutants are transported to Asgard and fun with the Warriors Three is had by all. While comparing those books with this week's annual is like comparing apples to watermelon, the effort and intention is still there.
Continuing and ending in Steve Rogers Super Solider Annual and Namor First Mutant Annual, respectively, Uncanny X-Men Annual has all the prerequisite elements for Marvel's summer time distraction – fun, fun and a trip to the Negative Zone.
Oftentimes annuals are not produced by the monthly book's creative team which can lead to uneven storytelling and unfamiliar character traits. However, this book does not suffer from either one of those as James Ausmus writes the X-Men as if he has been all along. And Nick Bradshaw's art is almost an identical copy of Arthur Adams (and that is not meant in any way to diminish what Bradshaw brings to the story – I like the style, it's "fun") which gives the book even more of a summer-time X-Men feel like the classic tales referred to in my first paragraph.
The story basically spotlights Cyclops, Hope, Namor and Dr. Nemesis. Four great characters, two of which have major issues with Cyke, and another who cannot be bothered (can you guess who fits into each role). Hope's feelings about everything have been percolating (she is a teenage girl after all) and she begins to let those feelings out, while Namor is also suffering from not enough attention.
I always like to see how writers take on Emma's sardonic and dry with, and Ausmus does not miss a chance to give her some of the issue's most memorable lines – my favorite having to do with scotch.
In the end, this is a setup issue for a much larger story, but the fun is the journey arriving to the setup, the reveal and figuring out what is going to happen next.
I have not said this in a long time, but I am very much looking forward to the next two parts of this tale.