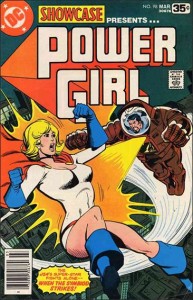 Showcase Presents #98
Paul Levitz (w) Joe Staton, Dick Giordano (a)
Way, way back in a decade known as the 1970s, DC Comics decided to bring back the original Justice Society of America. To accomplish this, they introduced Earth 2 in which these Golden Age heroes habited. In addition, they introduced some new younger heroes to the squad as to attract newer readers. One of these new heroes was Power Girl.
A few years later after Gerry Conway (Power Girl's creator) left DC to head over to Marvel Comics, Paul Levitz inherited the All Star Comics mantle in which the Earth 2 JSA resided. Levitz also took over Showcase comics and decided to use a three-story arc to explain just who was Power Girl.
I decided to spotlight the middle issue of the trilogy, as this one is the meat of the three. As much as things have changed in the DC Universe since Crisis on Infinite Earths took out the Multiverse, they have remained the same, especially when it comes to PG's origin story.
In fact, the PG we know and love from the current DC continuity is actually this PG from the Earth 2 story, pulled into the current timeline during the Crisis. Pretty neat eh?
So anyway, I often enjoy these old 70s stories. Something awesome about the narrative, which is not as heavy handed as some of the 1960s stuff. Levitz had a real way with the words back in his heyday, and Staton and Giordano's work on the pictures is smooth and sweet. I am not sure what it is about Giordano, but his style on this era more than anyone else's has always made me look back on this era's comics with great fondness.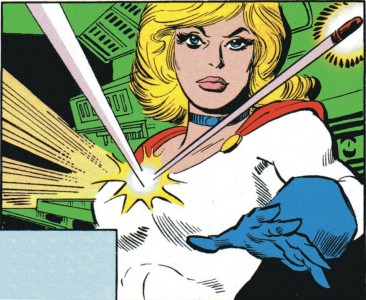 Anyway, issue #98 focuses on Power Girl's ship that brought her to Earth after the destruction of Krypton 2. Turns out her pop made the ship a symbiote and enabled it to give her virtual memories of life moving forward just in case she did not land somewhere for a very long time. Nice guy that pop of hers.
But, the ship was not ready to give up that relationship and sucked her back into its own twisted version of Pleasantville again, giving Power Girl everything a growing Kryptonian girl dreams about.
Anyway, this is a real fun story, especially for those who are fans of the Justin Gray, Jimmy Palmiotti, Amanda Conner, Judd Winick and Sami Basri versions.
The other nice thing for all Power Girl fans, the trilogy is actually collected and available at Brave New Worlds in the Power Girl tradepaperback, which collects these three issues plus Geoff Johns and Conner's JSA #32, 39 and JSA Classified #1-4 from the Infinite Crisis days that put PG back on the DC radar.
Check out previous Random Retro Comic Reviews below.
Batman Legends of the Dark Knight #40
Invincible Iron Man Volume 3 #37
Buffy the Vampire Slayer Oz #1-3