Batman The Dark Knight #2
David Finch (w/a) Scott Williams (a)
It's only the second issue and Finch has decided to call in the big guns as Etrigan the Demon's help is summoned by the Bat because the Penguin is obviously too much for him to handle. I mean, no brainer. However, this could be the first time the old Cobblepot and Etrigan appeared together in the same issue, on purpose. So one might say this is a historic issue.

Captain America #615.1
Ed Brubaker (w) Mitch Breitweiser (a)
Another GREAT JUMPING ON POINT by Marvel this week as the next point one is hitting shelves. So if you have not been reading Cap lately, you might not realize Steve Rogers was dead. No worries, he's back now, but he is no longer Cap as his former sidekick Bucky, who was dead once as well, is now the new Cap. But alas, Bucky is on trial which means there might once again be an opening for another Cap. Hmmmm? I don't know about you, but I have not been this confused since George Lucas decided to number the Star Wars films in the middle and then releases the first ones after first producing the middle ones.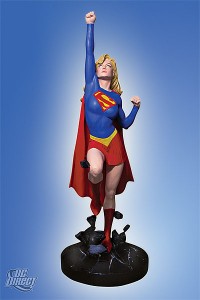 Cover Girls of the DCU Supergirl Statue
It's a bird! It's a plane! No, it's Superman's cousin Supergirl and she is being presented in the popular DC statue line – Cover Girls of the DCU. This Adam Hughes designed statue will not be available for long, so do not delay. And while you out picking up the latest statue of the line, make sure to check out Brave New Worlds stock of the previously released statues – Batgirl, Black Canary, Catwoman, Harley Quinn, Poison Ivy and Power Girl.
FF #1
Jonathan Hickman (w) Steve Epting (a)
Everything has changed, including the Fantastic Four after the death of one of their beloved members. So what does this mean for them? Well for starters, the Fantastic Four are no more. So welcome to the first issue of the rest of their lives, and yours since we have an entire new monthly book devoted to life after you know who. If

you have yet to check out Hickman's amazing run, now is a GREAT TIME TO JUMP ON and check out what all the fuss is about. Besides, you will get to check out the team's new look.
Green Lantern #64

Geoff Johns (w) Doug Mahnke, Christian Alamy (a)
Green Lantern Corps #58
Tony Bedard (w) Tyler Kirkham, Batt (a)
The war starts in Green Lantern #64 as part one of the War of the Green Lanterns officially kicks off DC Comics summer event. Turns out someone has stolen all the batteries, doesn't that always suck? Anyway, the Corps and all the other crazy lantern

colors are effectively shut down except for a select few – guess who still has some juice left? There are only four of them of course, and one of them is not me. Never professed to be a lantern anyway. So it turns out they are not real happy about this turn of events, hence the start of the war. Part two follows this week in Green Lantern Corps #58.

Hellraiser #1
Clive Barker, Christopher Monfette (w) Leonardo Manco (a)
He's back, and I am not talking Pinhead. No we are talking about Clive Barker back on the character he created. This is an all-new chapter in the official continuity of the Pinhead story – bet you never thought you would read those words on this website. Anyway, this will prove to be an epic story in what Barker is billing as the final Pinhead tale. Yeah right. Anyway, if you like horror, Barker and disturbing stuff, this book is probably written for you. If you are a fans of hugs and puppies (yes we mean you Lane), you might want to pass.

Justice League of America #55
James Robinson (w) Brett Booth, Norm Rapmund (a)
Both Reign of Doomsday and Rise of Eclipso continue in a book that DC is Drawing the Line @ $2.99. So that is basically two stories for the price of one. What a deal! Do you really need to know anymore than that? If you said yes, you are really greedy aren't you? But alas, I can't say no to you, so the Spectre has been taken out by Eclipso and Doomie is wiping out other members of the team. Sounds like an old-fashioned donnybrook.

New Mutants #23
MIke Carey (w) Steve Kurth (a)
Chapter four of Age of X is here. If you have not read the first three chapters, do you really think I am going to spoil the story here? C'mon, you know me better than that. Tell you what, we will use code words. So, in possession of BLANK which could equald the end of BLANK. BLANK is on the run, hunted by every other BLANK. But one of the hunters has BLANKS of their own.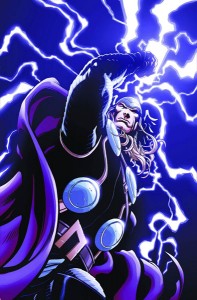 Thor #620.1
Dan Abnett, Andy Lanning (w) Mark Brooks (a)
A GREAT JUMPING ON POINT! Abnett and Lanning take their turn in another Marvel point one issue as they tackle (not literally because that would be just foolish) the God of Thunder. And who better to introduce and reintroduce readers to the Mighty Thor than the Grey Gargoyle. That's right, that is not a typo or error, that's the Grey Gargoyle we are talking about. Not to be confused with the Grey Ghost that Dennis Quaid played in Everyone's All American. Did not want you to be confused – it's just how I roll.
Ultimate Comics Doom #4
Brian Michael Bendis (w) Rafa Sandoval (a)
The conclusion of the Ultimate Enemy trilogy is here. Reed Richards has gone mad, MAD I tell you, and

he's not going to take it anymore. I"ll tell you what, this would never have happened pre-Ultimatum.Someone is going to fall. Someone is going to rise. And someone is going to say something funny (it is a Bendis book). Even money it's either Spidey or the Torch. Gotta play the odds.
Unwritten TP Volume 3 Dead Man's Knock
Mike Carey (w) Peter Gross, Ryan Kelly (a)
The next volume of the story within a story, collecting Unwritten #13-18, Dead Man's Knock features

the launch of the long-awaited new Tommy Taylor novel. Just exactly who was waiting for this and why did I not know anything about it. Besides a story within a story, this volume also includes the Unwritten Cabal. What more could you really want in six issues?