DC Universe Online Legends #1
Marv Wolfman, Tony Bedard (w) Howard Porter, Adriana Melo, Livesay and Norman Lee (a)
I was hoping this would be a fun one. Just like the online MMO, the set up seems too good to be true. Luthor finally realizes his goal of taking out Superman, and pretty much every other hero along the way, but he had to enlist the assistance of Brainiac in order to do so. Of course, Brainiac has other plans (natch).
I know DC has reset its Universe more than one time, but you would think Luthor would remember one of these days that he is Charlie Brown to Brainiac's Lucy. "Come here Lex Luthor, kick the football," Brainiac would say. Luthor of course, never remembering that he is always Brainiac's pawn would come on over, start running, gain speed and just when his foot is about to connect with that football – Luthor is on his back. Like none of us saw that coming. Of course, if we did we would not have this really cool concept for a game and now a biweekly comic book.
DC Universe finally lets the bad guys win, sort of. Issue one shows us the beginning of the end, but then splits into two stories – one in the past as Luthor retraces his steps as to how and when he got played and in the now where he attempts to recruit any remaining metas – good or bad – to help in the resistance against Brainiac before he wipes out the planet, like he is wiping away crumbs from his chin. That's just how inconsequential all of this is to him – he is after all just a machine.
Just wait until you get to the end of the issue and see who answered the call for the new resistance of Earth.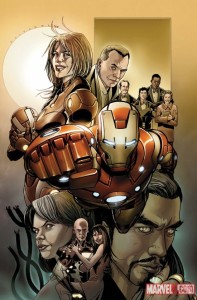 The Invincible Iron Man #500.1
Matt Fraction (w) Salvador Larroca (a)
The first of the Marvel point one's, or the "jumping" on point for new readers, Iron Man 500.1 is a treat. First, it is brought to us by the actual Eisner-award winning duo that has delivered sensational stories of ol'Shell head since the book's reboot when the first movie was released back in 2009. Many of the point one's will see different artists than those working on the regular titles.
Second, IT IS BROUGHT TO US BY THE REGULAR IRON MAN TEAM, and it is truly amazing. Fraction takes what could be a really dull and meandering premise and once again delivers big in a very poignant way. The is a great jumping on point for brand-new readers, and that includes comic newbies, super hero newbies or even new to Iron Man. Everything you ever needed to know about Iron Man and Tony Stark is in this issue. And it is done in such a way that regular readers to the book won't even realize that is what they are reading.
Fraction is becoming Marvel's everyman (obviously challenging Brian Michael Bendis for the crown) as he seems to be writing almost every title they have – in actuality he is writing Uncanny X-Men, Thor and the upcoming Fear Itself in addition to Iron Man). And his craft and storytelling never seem to suffer for it.
Plus, I love, LOVE, Larocca's page layouts with this issue, very simply done, a perfect complement to the story itself. If you don't read Iron Man, or even if you  do, make sure you read this one.

Honorable Mention Goes out to Thor For Asgard #6 and Amazing Spider-Man #653. First Thor, Robert Rodi and Simone Bianchi do a phenomenal job on this six-part Marvel Knights mini-series, meaning this tale is really not part of the ongoing Marvel continuity. Thor is experiencing something of a renaissance with its upcoming movie as Marvel seems to have greenlit every idea about the God of Thunder in anticipation of throngs of movie goers rushing comic stores after seeing the film this summer (here's hoping). What is awaiting them is some swell stuff, including the aforementioned title. When last we saw Thor, he was dying and says "Do not fear. I what it is that I must do …" and boy does he, as this one was a terrific story from start to finish. The final issue wraps the story up nicely while planting a few new seeds for a possible follow up story (again). This was a strong job. And Bianchi's pencils which seem better suited for splash pages and covers than storytelling fit in perfectly with the Asgardian theme.

And once again I need to give high honors to Dan Slott's Spider-Man "Big Time" arc. Wow, this has been consistently good and fun storytelling, the like of which this book has not seen since the heyday of a certain JMS. The first arc was just collected in hardcover this week, and if you have yet to jump back on board with Spider-Man, now is the perfect time to do so. A fun time is on every page.

And I would be neglect if I did not mention this other title once again this week, Gabriel Ba's and Fabio Moon's Vertigo mini-series Daytripper was collected as a trade paperback this week. It's an amazing story about life that is extremely well written and drawn. It's as if the Brazilian twins were born to be in the medium. Also, it will be the topic of the next Willow Grove book discussion on Saturday, February 26 @ 7 p.m. If you have yet to come out to the book club, now is a perfect time with a perfect book to discuss. Hope to see you there!