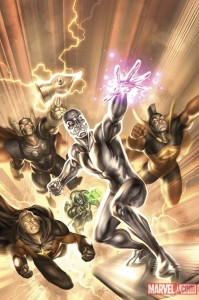 Annihilators #1
Dan Abnett, Andy Lanning (w) Tan Eng Huat, Timothy Green II (a)
This mini-series reads like a cosmic who's who of the Marvel Universe – Silver Surfer, Beta Ray Bill, Gladiator, Quasar, Roan and Rocket Raccoon & Groot? Well maybe it's not exactly an all-star lineup, but a little like the Yankees opening day pitching rotation. Obviously when we get all these characters together in one book it can mean only one thing – the universe as we know it is in peril – Oh No! Rocket Raccon and pals (that's what we will call them) are here to save the day, so no need to call the Ghostbuster or Justice League.

Batman Streets of Gotham #20
Paul Dini (w) Dustin Nguyen, Derek Fridolfs (a)
If you have not been reading Streets of Gotham, you have been missing a true treat by Dini and Nguyen. This story is all about Hush, Thomas Elliot or should we say the other Bruce Wayne since he surgery to impersonate him. Issue 20 sees "House of Hush" reach its penultimate (love that word) chapter. Hush's plans are starting to reach their conclusion, which can only mean hugs and puppies for all the Bat Peeps – they know who they are.

Batman Time and the Batman HC
Grant Morrison, Fabian Nicieza (w) David Finch, Tony Daniel, Andy Kubert, Frank Quietly (a)
Did you see this list of writers and artists? They alone are worth the price of admission. Bruce Wayne has return to Gotham City. This is that story. Collects Batman #700-703.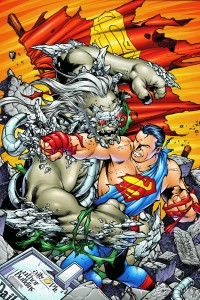 DC Comics Presents Superman Doomsday #1
A Ton of Different People (w/a)
These DC Comics Presents compilations are awesome, with stories that have not been reprinted in collected form yet. With "Reign of Doomsday" on the doorstep, DC took some time out to bring you some tales of Doomsday dread including Doomsday Annual #1 and Superman #175 (Jeph Loeb and Ed McGuiness),
Deadpool #33.1
Daniel Way (w) Bong Dazo (a)

Against my better judgement I am going to put a Deadpool book in here. But there are two reasons, first, Daniel Way is penning it. So, it should be stellar. Second, its one of those point one books Marvel has been shilling for the past month, meaning, this is a great jumping on point to see what all the fuss is about. And now for my second Ghostbusters reference of the spotlight,when evil lurks, murks or even cooks, who ya going to call? Deadpool, duh.

G.I. Joe Infestation #1 (of 2)
Mike Raicht (w) Govanni Timpano (a)
IDW's zombie event reaches the Joe's. Both the Joe's and Cobra are rushing towards a secret. Guess what they find when they arrive? Go ahead, guess. I bet you will never get it. Anyway, the infestation continues.

Green Lantern #63
Geoff Johns (w) Doug Mahnke, Christian Alamy (a)
DC's summer event is quickly approaching as the War of the Green Lanterns is quickly approaching. Parallax grows in power, Sinestro and Jordan make a sacrifice and some unlikely people become allies as we approach the point of no return. Think they will call Deadpool into help?

Pop Heroes Batgirl Vinyl Figure
A first in stock for Brave New Worlds, we have the others, Batgirl joins her DC hero brethren  is this cool designer vinyl toy. Also in stock, Batman, Superman, Wonder Woman, Riddler and Penguin.

Secret Six #31
Gail Simone (w) J. Calafiore (a)
I have to admit, I have yet to get on board the bandwagon that is Secret Six, but to a person (or man if we were still in the 1960s), everyone who reads it swears by it. This issue is a great jumping on point as it is part one of a three-part "Darkest House" arc. So, you know how in Monopoly you can get a "get out of jail free" card? Well one of the Six has a "get out of hell free" card, so they decide to resurrect a fallen loved on. I guess we are in store for another zombie story? Still, I think this week is when I jump into the pool.

Star Wars Mace Windu Force FX Lightsaber
Don't be scared away by this awesome replica lightsaber from the awesome saga from a long, long time ago. If you are a true fan, this is the lightsaber you need – you don't realize it but I am using my jedi mind powers on you. But I digress, Mace has the best saber as it is the only purple blade in the republic. I don't know how you we need more of a sales pitch than that?