Check out below for a little more about the "day the music died."
Acts of Vengeance Omnibus
Marvel has been collecting a lot of classic stories, tales that were begging to appear in collected form. Prose that has long been out-of-print and relegated to hidden depths of back issue bins. What better story for the collected form, nay, the over-size collected omnibus than Marvel's Acts of Vengeance from the 1990s. Collects over 32 single issues including Avengers, Captain America, Iron Man, Thor, Amazing Spider-Man and a lone issue of Cloak & Dagger (worth the price of the book alone).

Batman and Robin #20
Peter Tomasi (w) Patrick Gleason, Mark Irwin (a)
New story! Great time to jump on the bandwagon that is Batman and Robin. Part one of three in "Dark Knight, White Knight." Bruce Wayne is back and Gotham is in trouble (as usual). Dick and Damian are on the case as we may ben encountering the oddest Bat-villain of all time – the White Knight. But he wants only happiness for Gotham, of course it's his version of heaven, but heaven nonetheless.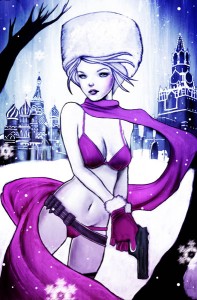 Cinderella Fables are Forever #1 (of 6)
Chris Roberson (w) Shawn McManus (a)
Following up their awesome first stand-alone Cinderella tale, From Fabletown With Love, Roberson and McManus are back with our favorite Fable that is a spy, Cinderella. This one has murder, ghosts and nemesis as Cinderella must find out who is knocking off mystics from the Farm. Problem it is, it may be the one person who ever really almost defeated her. But they are dead! Cue dun-dun-dun music.
Cover Girls of the DCU Poison Ivy Statue
Adam Hughes (design) Jack Mathews (sculptor)

Next in the popular line of DCU Cover Girls statues it's Poison Ivy, based on a design by
Adam Hughes. A great companion to the previously-released Harley Quinn statue. Thisis hand-painted, cast in porcelain and measures about 9.75 x 4.25 x 4.25. Comes with a nifty certificate of authenticity. Brave New Worlds also has previous releases in stock, including Power Girl, Black Canary, Wonder Woman and Catwoman.
DC Heroes Wave 16 Bane AF Set
The next in DC's popular build-a-figure set, wave 16 of their Mattel action figures includes Azrael-Batman, Creeper, Classic Robin (with vintage and modern noggin's), Jonah Hex, Mercury, Riddler, Black Deco Batman, Deathstroke andthe clown prince – the Joker!
Dr. Horrible Captain Hammer Logo T-Shirt

Now you to can look just like everyone's favorite (clueless) hero from Joss Whedon's Dr. Horrible's Sing-Along-Blog, Captain Hammer. This is the actual t-shirt Nathan Fillon wears (well not the actual t-shirt). But once you don this t-shirt you of course will become awesome and encouraged to break out in song wherever you are, at anytime.Remember, "everyone's a hero in their own way." Sizes range from medium to double-x.
Flash #9
Geoff Johns (w) Francis Manapul (a)
After a two-issue villain spotlight, Barry Allen's new story continues as Flashpoint begins here. It's the debut of the newest fast dude to emerge orrun out of the Speedforce, Hot Pursuit, and he is charged with just one mission, no breaking the speed limit – of the speedforce. Guess who he has in his sights first? Did you guess? C'mon, this is an easy one. Now you are just frustrating me.
Flash Dastardly Death of the Rogues HC

Geoff Johns (w) Francis Manapul (a)
It's the first brand-new non-return Barry Allen story in decades! (How's that for aselling point). Barry Allen has not been around for awhile so of course now that he is back he is accused of MURDER! Dude, he works fast. Then again, they don't call him The Flash for anything. Collects The Flash #1-6 and The Flash Secret Files 2010.

Incredible Hulks #622
Greg Pak (w) Paul Pelletier (a)
Have you checked out the Hulk lately? Well, there is a lot of crazy stuff going on, like multiple multi-colored Hulks and She-Hulks. This one is the "shocking" climax of God Smash. Scotty would not be happy as the Hulk attempts to break the fundamental law of (God) physics.
Shadowland Premiere HC

Andy Diggle (w) Billy Tan (a)
This is it, the end of Matt Murdoch's story as Daredevil. Murdoch takes his obsession as Hell's Kitchen protector to a new level as he uses his positions as the new head of the Hand to brutally watchguard it's citizens. Some of Marvel's local heroes are taking exception with a bunch of Hand ninjas running around the five boroughs so they decide to step up (as heroes are apt to do). The rest is history, and this story.

Ultimate Avengers vs New Ultimates #1 (of 6)
Mark Millar (w) Leinel Yu (a)
Ultimate Comics Spider-Man #153
Brian Michael Bendis (w) Sara Pichelli, David Lafuente (a)
The Death of Spider-Man begins here. Ultimate Spider-Man 153 features a prologue tale as the first issue of Avengers vs Avengers starts the story for real.

Wolverine #1000
Various writers and artists
In the same vein as Deadpool #1000 and Wolverine #900, a collection of the bub who is the best at what he does is here. Tales include his inner devil being released in The Last Ride of the Devils while we also catch a tale from the Mojoverse and WWII.

Wolverine #5.1
Jason Aaron (w)
In case you did not get enough of your Wolverine fix, prepare yourself for a new jumping on point in the Wolverine story. Logan's new girlfriend (when did this happen?) decides to invite his mutant and hero pals to a surprise party. Something tells me Wolverine is not big on surprises, but good for him finding a new lady after all these years. Guess he is finally over Mariko. Anyway, of course this being a surprise party with X-Men and Avengers, something ominous is about to happen. Like I said, great jumping on point. For current readers of Wolverine, this one will set up Wolverine's story for the rest of 2011.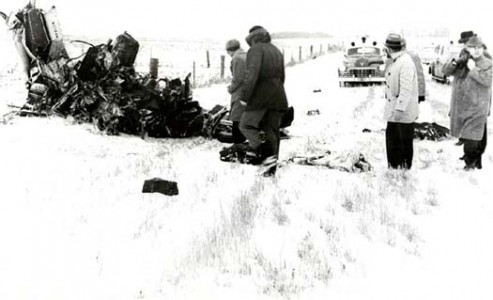 February 3, 1959 a plane carrying musicians Buddy Holly, Richie Valens and the BigBopper crashed in a snowy field. All three perished. The impact on the music iducstry was huge, it would be like a plane going down today with Justin Bieber, Justin Timberlake and Kings of Leon. Click here for more.
And Lou Diamond Phillips channeling his Valens and La Bamba