Amazing Spider-Man 654.1
Dan Slott (w) Paulo Siqueira (a)
Venom a hero! What the heck is going on in the name of Excelsior and why is he showing up Peter Parker in that department? The next edition of the Marvel Point One issues, a terrific jumping on point if you have yet to listen to me and pick up Slott's Big Time arc (the first four issues of which are available in collected form already). So, what are you waiting for? You need to get back on the horse, or spider – so to speak. You can thank me later.
Batman #707
Tony Daniel (w/a)
This is the one you have all been waiting for, the introduction of a brand-new super heroine – the exotic Peacock from the Far East! I kid you not. And oh yeah, Batman discovers that Gotham City's founders had some secrets Yo. Isn't it always the case. Why can't we just leave the past buried? I guess it does become an issue when the Peacock is on the case – like how I tied that one back?
Booster Gold #41
Keith Giffen, J.M. DeMatteis (w) Chris Batista, Rich Perrotta (a)
I personally love these crazy time stream ones. Turns out Booster Gold is going to face a new threat from another time AGAIN, but get this, it is for the first time. Just when you thought it could not get any better than the Peacock, DC turns around and gives us a mind trip. You are welcome.
Boys #51
Garth Ennis (w) Russ Braun (a)
It's an oh-oh moment as Butcher finds out what has been going for Hughie. Also, it's a road trip for Butcher and Terror to our nation's capitol and CIA director Susan Rayner. Good times. Some laughs are had, memories rekindled and CONCLUSION are sprung, including the aforementioned Hughie. Remember, this one is not for the kiddies.

Captain America by Jack Kirby Omnibus HC
Stan Lee, Roy Thomas (w) Jack Kirby, Jim Steranko, Gil Kane, John Romita and more (a)
Aw yeah, another week and another awesome Marvel omnibus release, just in time to celebrate President's Day! This one takes us all the way back to the beginning as America gets ready to enter WWII, one Steve Rogers is about to take some serum, and the rest is as they say, history. And yeah, there is a lot of Jack Kirby stuff in this one. Collects Tales of Suspense 59-99, Captain America 100-113 and Not Brand Echh 3.

Detective Comics Classics
Various (w/a)
Previously only available in the Detective Comics Action Figure Box Set, we get some old school Batman tales from back in the day from Detective Comics 377, 384-385 and Batman Family 1. The Riddler, Batgirl and Robin all appear, as does some Gil Kane artwork.

DMZ TP Volume 9
Brian Wood (w) Riccardo Burchielli (a)
Our very own Brian swears by this title. The ongoing tale continues after the crazy events of Hearts and Minds, our good buddy Matty finds himself a prisoner in a remote and desolate section of the city – why don't abductors put their prizes in the city's square with the hot dog vendor? Just trying to think outside the box. Maybe Lincoln and Frankenstein can join him (you are welcome Brian). Anyway, all this alone time can only mean an epiphany is forth coming for our boy and probably not the same kind that Darth Vader had right before he decided to toss the Emperor over the side in the Death Star. But what do I know?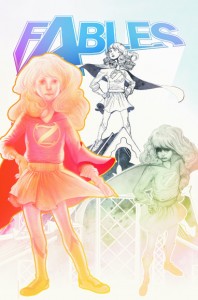 Fables #102
Bill Willingham (w) Mark Buckingham, Steve Leiahola (a)
Another great jumping on point this week, and Vertigo did not even need a special point one issue to do it. Well, Willingham is talented. Anyway, this issue kicks off a five-episode arc called "Super Group." Turns out Pinocchio has decided to hero up, tights and all. This being Fables, it is probably nothing you are expecting.
Garth Ennis' Jennifer Blood #1
Garth Ennis (w) Adriano Batista (a)
Possibly taking it cues from the awesome Geena Davis-Samuel L. Jackson vehicle, The Long Kiss Goodnight, Jennifer Blood is a suburban soccer mom by day, and you guessed it, super model (whoops, wrong notes) a ruthless vigilante by night. I wonder

what would happened if she reversed the times she did those jobs? Look out grocery store bagger. You are going to bag that produce the right way. I digress. Since it's coming from the twisted mind of Ennis this should be an interesting read to say the least.
Green Lantern #62

Geoff Johns (w) Doug Mahnke, Christian Alamy (a)
This one is going to lead into the War of the Green Lanterns (nifty title eh?) as Sinestro and Hal Jordan need to make a sacrifice in the SHOCKING conclusion to "New Guardians." There of course is betrayal and the Stay Puft Marshallow Man (who of course I can not back up in this story). One thing is certain, the drums are starting to beat more loudly as war is approaching. And not the silly Sinestro Corp War or that even more funny Blackest Night.

Hawkeye Blind Spot #1 (of 4)
Jim McCann (w) David Lopez (a)
Just when you think you have seen the last of Clint Barton in a monthly book (New Avengers, Hawkeye & Mockingbird, Widow Maker), the Marvel Powers That Be give us yet another new mini-series. Hawkeye takes stock in his life after all the events of the previously mentioned titles. Think he will be ordering some Chinese food and listening to 80's power ballads while it all unfolds?

Justice League of America #54
James Robinson (w) Brett Booth, Norm Rapmund (a)
You know lately I have been saying to myself, "self, you know what we need a new Eclipso story." And voila Justice League this week delivers in the beginning of the "The Rise of Eclipso" with new artist Brett Booth (love his style). Turns out the road to darkness is not paved with good intentions, but rather the members of the Justice League of America. Isn't that always the way?

Morning Glories Volume 1 For a Better Future TP
Nick Spencer (w) Joe Eisma (a)
Collecting the first six out-of-print issues, the Morning Glory Academy is on the nation's most prestigious prep schools, even more so than that joint on Gossip Girl. But alas, something is lurking behind the doors that is all not hugs and puppies. New students arrive, but they never leave, sort of like transferring into Temple University.

Silver Surfer #1 (of 5)
Greg Pak (w) Stephen Segovia (a)
The FF's silver pal is back on the streets of New York City, but he ain't on now Crocodile Dundee walkabout. Nope, instead he is actually feared, FEARED by many. I wonder what gives? Maybe they have not gotten over his being a herald of the world eater. Turns out this mini-series has to do with the High Evolutionary. Maybe he is going to turn old Norrin into the Red Surfer? Just thinking outside the box a little bit.

Superman Batman Torment TP
Alan Burnett (w) Dustin Nguyen, Derek Fridolfs (a)
This one is a favorite of mine. The story is swell, with a little seduction and Apokolips thrown in for good measure as Dustin Nguyen and Derek Fridolfs are supplying the pictures – and some mighty fine pictures at that. Superman goes missing and Batman must team up with some forbidden love to track him down. But only adding to the fun is Darkseid, Killer Croc and Scarecrow ('natch).