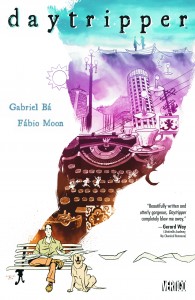 Daytripper
Fabio Moon, Gabriel Ba (w/a)
Really, words truly fail me when it comes to describing just how awesome Daytripper is. It's not your typical comic or graphic novel, and for that we are all lucky. The Brazilian twins Moon and Ba have been doing this for awhile, just telling stories about life in their native country. Daytripper seems to be the perfect storm for what they wanted to do.
Daytripper is about the moments in life, and how we view them and how they effect us. But it is so much more than that. John Lennon once said and I am paraphrasing, "life is what happens to us when we are trying to go where we want." That's what Daytripper is to me, is all about the journey of one man's life, the moments and everything in between.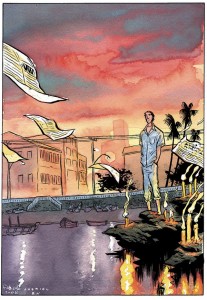 It is also told in such a Memento like style, jumping back and forth through time that it would make Christopher Nolan blush.
Now that I have gushed thoroughly about the awesomeness that is Daytripper, let's take a look at the story itself.
Daytripper is about an obituary writer named Bras de Oliva Domingos. He is the son of a famous writer, which overshadows and truly shapes Bras into the man he is. But that is too simple an explanation of what this book is truly about.
Like the story itself, there are a lot of moments that stand out and make me think of my own life. However, it's the style in which the twins decide to tale this story that separates it from the pack. Each chapter (save one) is a number, corresponding to our lead character's age. However, at the end of each chapter, his story is finished, until the next chapter. It may be a little confusing of an explanation of the writing style, but I truly do not want to give anything away.

When he meets his wife in chapter two, he was getting out of a long-term relationship and was pretty despondent. We have all been there and can relate. And then one day, he changes up his routine and bumps into her.
All of a sudden his attitude changes and he gets this sense of anticipation waiting to see her again, to tell her how he feels. Again, its something we can all relate too. This book is literally littered with moments like this. Some chilling, some touching, some sweet and some hard.
The journey and metaphors that are loaded through each chapter are definitely open to each individual reader's interpretation and I for one would be interested to see how you view the tale.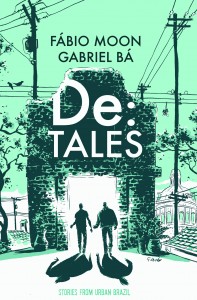 If Daytripper intrigues you, or if you have already read it and are looking for something else from the twins, take a look at De Tales, published by Dark Horse Comics and available as a hardcover. They are more "observations of life" in vignette style. Very good, and of course in stock at both Brave New Worlds locations.
Check out previous "My Pick" selections below.
Thor by J. Michael Straczynski TP Volume 1
Final Crisis Legion of 3 Worlds