Ever walk into Brave New Worlds, walk along the Great Wall of Comics and say to yourself something like "man that cover of Zen Intergalactic Ninja, while foil as all get out, sucks. I could totally make a better one!"? Here's your chance.
If you subscribe to our weekly email newsletter ( sign up here btw ) then you already heard that the sweet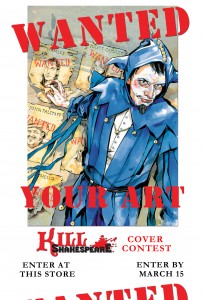 dudes behind the hit IDW series Kill Shakespeare are having a cover competition. They're teaming up with finer comic shops across North America to collect submissions by "anyone who does not already have a professional comic credit" for a chance at being published as the variant cover to issue #11 of the series! If you win you will join the ranks of James Jean, Alex Ross, Jock, Jim Lee and Jack Kirby as published comic cover artist! Who doesn't want that!?! Make sure you get your cover to them by March 15th (the Ides of March n all that).
Here's some bullet points style info that I just stole straight from their site:
WHAT: We want YOUR ART to grace the cover of Kill Shakespeare #11. And we're teaming up with some of the greatest comic shops in North America to make it happen.
The winner's design will be the alternate cover for Kill Shakespeare #11, while four runners-up will be featured in print. All other finalists will get some on-line love.
WHO: Anyone who does not already have a professional comic credit can win (although anyone can enter).
WHEN: What we need from you is a completed cover design by the "Ides of March" (March 15th) by 9:00 PM EST (6:00 PM PST).
For all the rest of the information you may need about the competition head over to there site HERE and then get crackin' on those covers people!