Welcome to Friday loyal readers (and, yes you too, you random first time clicker types). With Rob and George off in Dallas gallivanting with other ye ol comic shoppe owners and managers, my schedule feels all off…so sadly I feel like it's Saturday (my Friday btw) but I have high hopes for the afternoon! Also links!!!
•First off I joined this group this morning. CLICK HERE
I have no real idea how I found it or even why it was made. But I got a good laugh out of it this morning and that's all that really matters.
•I'm sure you've seen this trailer already but an X-Men First Class Trailer when online yesterday. Now call me ignorant (or maybe in truth i just haven't been paying any attention to it) but is this supposed to be a complete reboot or is it a prequel? CLICK HERE
•Speakin of movies this is an interesting look at digital color in movies CLICK HERE
•Sometimes this happens CLICK HERE
•I'm a fan of Sleeveface and it's apparently being done with books now too CLICK HERE
•Jamie McKelvie has redesigned Psylocke for winter missions. CLICK HERE
•Remember this year's Super Bowl? I don't cause I didn't have a horse in that race (this year). But this makes me laugh (thanks Deadspin) He drew all over his neck…so what if he won. haha
•One of the things I enjoyed about my time in the UK was finding the blue circlular plaques that would tell you about something awesome historically that happened there. I did some drawing in a room in a museum in Edinburgh, Scotland that Darwin studied in and while I thought that was cool, well, this is way cooler CLICK HERE
•We will be getting a new Green Lantern animated before the live action one. CLICK HERE
•Japan has done gone and played Dr. Frankenstein with my two favorite foods CLICK HERE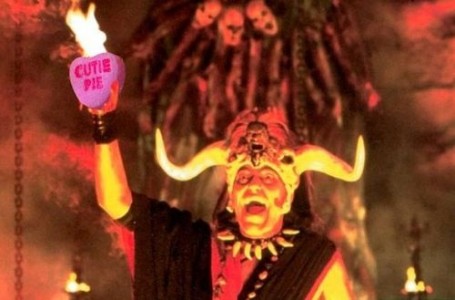 •Valentine's Day is coming up. Be sure to get yer hands on the heart of the one you love Mola Ram style.
•Our customer, a friend and heck he's a lawyer too has a band and they are trying to raise monies to get their new EP released on vinyl. Donate? CLICK HERE
•Been playing a lot of Mega Man's again around the house. CLICK HERE
•This is a cool skate video CLICK HERE
•Lastly I'm not sure what I make of this whole thing…CLICK HERE