If you were to take a quick glance at the list of comics hitting the shelf tomorrow you may assume (if you know me) I'd be all about the Dean Koontz Frankenstein comic…well I'm not*. Let's see what I am lookin' forward to…
Besides the final issue of the FF (Fantastic Four #588), in which the team mourns the fact that LOST ended on such a crappy note, and usual obsession with the Scalped series I am actually looking forward to quite a few books tomorrow.
First off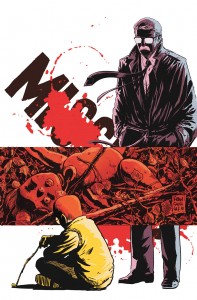 DETECTIVE COMICS #874: If you, like some people, don't really like reading Grant Morrison all that much, then I sure as crap hope you have been reading what Scott Snyder has been doing over in Detective Comics. I only recently read the last issue (#873 for those keeping score at home) and lemme tell you this series is awesome. I mean I just re-read the solicitation information for this issue and got super pumped:
"There are some cases that come screaming back at you…like phone calls in the night…"
For years, Jim Gordon has been haunted by the unsolved case of Gotham's notorious "Peter Pan Killer." Now, armed with new evidence, Gordon is determined to put the case to rest. But as he digs deeper, he'll unearth a shocking discovery about his own past – a revelation that will shake him to the core. Skeletons will be exposed and secrets revealed in this special issue featuring art by Francesco Francavilla!
Now I am sad to see that Jock is not on the art chores this issue but I can accept the backup story becoming the main story in this issue. It's been touching on some things that haven't really been touched (in my memory at least) since Year One. I'm excited (and you should be too)! Check this one out!
Detective Comcis #874, Scott Snyder (w)/Francesco Francavilla (a), 32 Pages, Full Color, $2.99, DC Comics
This next one is admittedly a bit of a cheat (more a 2 fer 1 deal)…deal with it!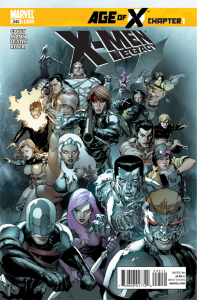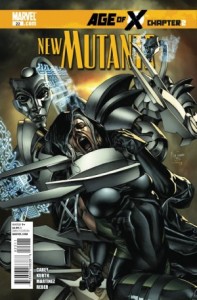 X-Men Legacy #245 (Age of X part 1)/New Mutants #22 (Age of X part 2): In true believer, Marvel, fashion parts I and II of this X-Men based epic come out on the same day, so you have to be sure to grab them before they sell out lest you miss the beginnings of an epic…never ending cycle. Anyways if you read the Age of X Alpha issue (out what feels like forever ago!) you know this ain't your Grandpa Stan Lee's X-Men….****SPOILER ALERT FOR AGE OF X ALPHA**** (they kill off Wolverine in a flashback!?!) He's a money maker. I guess they got some other things planned for the other badasses…****ANOTHER SPOILER ALERT**** I guess cutting off Scott Summer's eyelids and making him a mutant execution machine is one of those plans. I've been excited to read both of these issues since I read Alpha and can't wait to see what else Cary and his team of artists have planned for this re-imagining of the X-Men.
****to read spoilers just highlight the light area with your mouse****

X-Men Legacy #245, Mike Carey(w)/Clay Mann(a), 32 Pages, Full Color, $2.99, Marvel Comics
New Mutants #22, Mike Carey(w)/Steve Kurth(a), 32 Pages, Full Color, $2.99, Marvel Comics
See ya at the shops!
*sometimes i feel like there are just novel series books that shouldn't be adapted into comics (and with sub par art to boot)…and sometimes i feel like there are just books that, simply, just shouldn't exist, cause they've gone off course and way to far becoming damn near unreadable but i just keep reading them with the hope that it will get better and become something more than starring at a car crash on the turnpike as you creep by in the traffic…