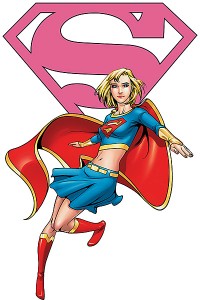 Supergirl #60
Nick Spencer, James Peaty (w) Bernard Chang (a)
Fresh, original and intriguing is what I call Spencer's (and Peatty's) debut on Supergirl this week. With a character (and her famous cousin) that have seen it all, Supergirl #60 provides something a little different. Unfortunately all the interest and excitement have more to do with the "B" and "C" stories than with our actual heroine.
Both writers do a great job of setting up future tales with a pair of Harvard students who create a new superhero tracking app for smartphones. It's a great idea, and one that we might actually put to use today with appearances of so-called heroes on our streets. However, it seems these creators have more nefarious reasons for the app (enter menacing bwah-ha-ha).
Then there is Lois Lane and (another) Cadmus story. But it takes a quick and dark turn that makes you realize the stakes are higher and perhaps different than what we are used to in a super-book.
Granted, Spencer and Peatty give the title character enough to do (and you have to wonder what it has to do with the other stories) that I would qualify their debuts this week on the book as an unqualified success. This is a great jumping on point for anyone looking to get into Supergirl or even to check out a DC book. Plus the $2.99 price point is awesome on this one.

Amazing Spider-Man #652
Dan Slott (w) Stefan Caselli (a)
It's two-for-two for Amazing Spider-Man and the third time in five issues (I think) that Slott's Big Time arc has hit all the right buttons for me (and appeared in this column). Slott has undone the past several years of blah with Spidey to make the title fun again. I have said it before and I will say it again, if you dropped this title after One More Day, now is the time to jump on board again.
After a successful opening arc, Slott moves onto his next tale with a new artist (they will change with each arc) and Caselli does not miss a beat, picking up where Humberto Ramos left off.
What ultimately makes a Spidey book successful is the supporting cast, and Slott has done a terrific job of incorporating all the people in his life back into the story, none more than this week's issue.
In fact, there is very little Spider-Man, until we need him most. The story also gives a huge shout out to where it all started for our hero (and not the story you are thinking) as the Spider Slayer returns, organized and in charge.
Plus the end will leave your mouth agape. Trust me, you will not see this coming, or maybe you will. You comic readers are becoming a jaded bunch.

Buffy the Vampire Slayer #40
Joss Whedon (w) Georges Jeanty, Andy Owens (a)
It's funny how a little change can do wonders for a title. Once you start reading the final issue of season 8 of Buffy the Vampire Slayer, you realize you are not in for the typical ride that has been the past 12 issues or so.
In my opinion there has been too much going on. It's been too big. Issue #40 serves like the finale to season four of the television show, almost a jumping on point, slowing things down again. The war is over, the aftermath continues to unfurl and the Scoobies are left to pick up the pieces, as they usually do.
This one seems to get back to basics, complete with a vampire staking an all. If you are like me, the past couple of arcs have been overwhelming with a lot going on. Whedon addresses this issue in the book (which he penned) and directly in a letter at the conclusion of the issue.
It all makes me excited for the start of season 9, which cannot get here soon enough. Still, as finales go, this one offers a lot of closure on the 40-issue saga.

Honorable Mention Just wanted to throw a couple of shout-out's to Invincible Iron Man #500 and a few others. I like what Fraction attempted to do with this milestone issue. When it comes to milestones, writers try to go big and very often the story can get lost in the attempt. Fraction however tells three separate tales that are all interconnected – which in my opinion are the best ones (think Star Trek The Next Generation finale). Another great jumping on point for those interested in getting started on a new book, one that has been awesome since the first day Fraction started.
Also take a look at Brian Michael Bendis' Scarlet #4 and Mark Millar's Superior #4. These titles are both unique in their own right and offer very compelling stories. Scarlet is all about upsetting the status quo, that of the world in which she exists and what I believe we as readers have fallen into the trap to expect. Meanwhile, Superior is one of those stories that take's its origins from another more famous tale that we are all too familiar. Enjoy!