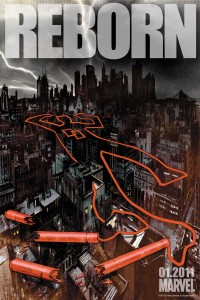 Daredevil Reborn #1 (of 4)

Andy Diggle (w) Davide Gianfelice (a)
Another week another book that brought apprehension when I thought about reading it. And I am happy to report that I enjoyed this story by Andy Diggle. It makes up for the mess that was Shadowland. Talk about a no event. Granted, it did leave a whole lot on Hand ninja hanging out in NYC and working for the Kingpin (see this week's Spider-Man), but I mean ninjas are like dogs now, they are everywhere. But I digress …
Daredevil Reborn #1 felt a little retread in that it's not a terribly original idea. Matt Murdoch stars as a drifter (a blind one at that) where the locals "encourage" him to leave town. When the local constable shows up, they have the same reaction (ala John Rambo – oh no, good thing this book did not star Sylvester Stallone). Of course he does not leave town (where is the fun in that) and of course he finds something (oh, a mystery).
And while I may seem to be a little critical of the way the story was written, every tale needs that hook or as George Lucas calls it, macguffin. For Diggle, this one is it. And to be honest, you are reading the story not so much for the mystery, but the journey that Murdoch is on his road to salvation and being rebirth – and that is why this story stuck with me.
Plus we get to see Murdoch teach a blind kind how to flip a coin. And to be honest, I think we can all use a skill like that, even if we do have 20-20 vision.

Notable Fun Moments in Comics This Week
While none of the below titles are so awesome to be noted above, there were a couple of time during each of them that I thought, "that was cool" or "that was fun" and even on ocassion made me chuckle out loud (a nice hearty guffaw while reading a comic around people is always a conversation starter. So without further ado let's take a look.
Red Robin #19 is a title I can never put my finger on. I always pick it up, and always walk away enjoying what I read. Fabian Nicieza and Marcus To tell a good story. This one stars Tim Drake and with a dearth of bat titles on the market can be easy to overlook, especially after the fun that is Batgirl. This month's issue takes place in Tim's head however and is an interesting tale watching him begin the book in a classic Batman & Robin adventure (think Adam West TV series). Check this out for a little nostalgia and stay for the rest of the story.

Speaking of Batgirl, issue #17 is like the previous ones, a fun time. This issues sees the return of Damian as the two team-up. As always, Bryan Miller seems to be having a blast writing these characters when they go head-to-head, and I know I enjoy reading them. This is a real heartfelt moment as Damian goes undercover and Stephanie realizes some things that probably none of us ever thought about when it comes to the new boy wonder. If anything, the last page is the best part and worth the $2.99 cover price alone.

Honorable Mention goes out to Birds of Prey #8. Part two of the Death of Oracle storyline, the Calculator is pissed and he is going to find out who Oracle is if it kills all of the Birds of Prey. Guillem March does the art on this issue, and it is superb. There's an interesting "B" story running with the Penguin and Hawk, but the main tale is why you should pick this book up. Lots going on, just when you thnk the book is going one way, it zags. Then you go to take breath, and it zigs. Come to think of it, this book may have deserved a higher rating this week.

And last but certainly not least, Amazing Spider-Man #651 (mentioned above re: all those crazy ninjas, who I hear are getting their own reality show soon) closes the door on the opening "Big Time" arc. All is well in Peter Parker's life. Wish we could say the same for his alter-ego who now has to take on a new Hobgoblin and the Kingpin, in the same book. Of course he gets some "help" from his new "partner" the Black Cat. I have written this before, but if you have not given Spidey a chance in awhile due to One More Day, Brand New Day or One Moment in Time (which was miserable, thank you Joe Quesada), give Big Time a shot. It's a good read and should renew your faith in all things webhead.