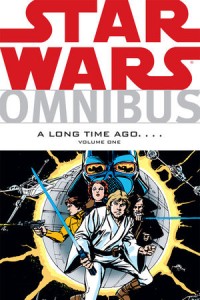 Star Wars A Long Time Ago … Omnibus Volumes 1-3
Dark Horse Comics
Roy Thomas, Archie Goodwin, David Micheline, Plus Others (w) Harold Chaykin, Walt Simonson, Carmine Infantino, Al Williamson, Plus Others (a)
So where were we? Oh yes, a long time ago, in a time not too far away Star Wars fans could only relive the adventures of their favorite movie either through the action figures (and their own imaginations – I was always have full-scale, epic battles), through the LP (records for those of you too young to know what an LP stands for) that told the story of the movie (cut up from the movie with the actors dialogue – this was awesome) or they could read the Marvel Comic book, which featured all-new original stories.
We have been spoiled these past 10 years as Dark Horse Comics has really taken the Star Wars license and done wonderful things with it, expanding the original universe with new and fully developed layers that tell the stories that did not hit the screen. In fact, they have created all-new characters from background scenes in the prequels, including the story of the enigmatic Jedi Knight Qunilan Vos (who Lucas recently including in his Clone Wars animated series). Dark Horse has really added their unique stamp to the Lucas mythology.

And while Dark Horse Comics is the reason for this post, reprinting the original Marvel issues from my childhood, it is really a celebration of Marvel Comics, and more specifically Roy Thomas, Harold Chaykin and Archie Goodwin. These are the men that met with Lucas before the original Star Wars hit theaters in 1977 to plan the official movie adaptation (which is included in Volume 1 of the Omnibus). Star Wars Insider 122 (on sale at Brave New Worlds) has a great interview with Thomas and Chaykin regarding that meeting.

It was not until issue number seven that Thomas and Chaykin were able to tell their first all-new story – Han and Chewie go off on a solo adventure, coming up against Crimson Jack, Miss Sunshine and a Rabbit (yes a real human-like rabbit) bounty hunter. Those were truly special stories.
They were the first to play in the universe that almost all of us dream of playing in today. There were a lot of kooky stories and everything was based on the first movie – Luke Skywalker's Dad was not Darth Vader! and other fun discrepancies. But that is the awesomeness of these stories. It's not canon, and probably never was supposed to be. However, there were some seeds planted that grew into expanded universe characters or main players in the animated series (Thrawn, Yuzakhan and the Night Witches!).

Each Omnibus contains about 27 issues of the Marvel run. Volume 1 is the first 27 and also reprints the original Star Wars movie adaptation. Volume two contains issues 28-49, Giant-Size Annual 1 and the complete Empire Strikes Back adaptation while Volume three (released this week) features issues 50-67 and King-Size Annual 2. All three books takes us through the 1970s and into the 1980s where the only official tales were the original movie and the first and only sequel.
Nostalgia aside, these issues were really fun and featured some interesting guest writers (Chris Claremont) and artists (Michael Golden). Plus Carmine Infantino drew a ton of issues and his stuff was amazing on the title. Some interesting notes – issue 19 is titled "The Empire Strikes Back" but has nothing to do with the sequel as C3-P0 holds an unconscious Luke with Stormtroopers converging, issue 34 features a Han-Leia lip-lock, the Read Queen saga starting in issue 35. Issue 45 is the first post Empire story with Luke and R2-D2 stand-alone story while the next issue features a cape-wearing Lando.
If you are a stickler for continuity, these books are definitely not for you. But if you want to have a good time and enjoy all things Star Wars, my question really is – why haven't you picked these up yet?
All three volumes are no currently available at Brave New Worlds.
Check out previous Second Look's below.
New Mutants Return of Legion TP
Immortal Iron Fist The Last Iron Fist Story TP