Batman Beyond #1
Adam Beechen (w) Ryan Benjamin, John Stanisci (a)
Turns out you loved the six-issue mini-series that just ended so the Powers That Be at DC said you know what, we are going to give you more. And more as in a regular ongoing series. So, because you demanded it, Batman Beyond #1, now on-sale monthly.

Ultimate Comics Captain America #1 (of 4)
Jason Aaron (w) Ron Garney (a)
It's another Ultimate origin book from the folks at Marvel, just in time for the next film to come out. Captain America meets his nemesis, and it turns out its a Captain America from the Vietnam War. Who knew? Well since it's Aaron at the helm, this should be a good read.
Invincible Iron Man TP Volume 4 Stark Disassembled
Matt Fraction (w) Salvador Larroca (a)
Tony Stark is dead (sort of). Long live Tony Stark. Fraction's Eisner Award-winning arc comes to an end as Iron Man gets by with a little help from his friends. Collecting Invincible Iron Man #20-24.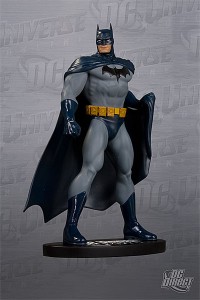 DC Universe Online Statue Batman
This Jim Lee inspired statue is part of a brand-new statue series from DC in anticipation of the release of the DC Universe Online game. Also out this week is Catwoman. These are limited edition collectibles.