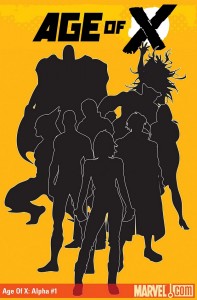 Age of Alpha #1
Mike Carey (w) Too Many to List Here (a)
Spam! What is it good for? Oops, sorry about that. I meant to write War, what is it good for? Well for mutantkind it could be good fro everything as this one is being billed as their final conflict! Age of Alpha presents a world where the X-men never existed but the fate of their entire species rest on the shoulders of a few remaining muties. The question is, what are they willing to do to ensure victory. I mean, we are talking war which is usually winner takes all, so …

Avengers #9
Brian Michael Bendis (w) John Romita Jr. (a)
Talk about having fun in one comic. In their first arc, Bendis and Romita Jr brought back Kang and the Next Avengers (from the animated dvd – see below), this time it's the Hood on a quest for the infinity gauntlet while the Red Hulk helps out our heroes. Fun, fun, fun. Too much fun for any of us to have one our own. In fact, after reading you should share this one with a friend.

Avengers by Brian Michael Bendis Premiere Hardcover Volume 1
Brian Michael Bendis (w) John Romita Jr (a)
Read above for the details, collects Avengers #1-6.

Avengers Academy Premiere Hardcover Permanent Record
Christos Gage (w) Mike McKone (a)
This is the team that has been handpicked to be the next era of heroes. Problem is, it was not actually the Avengers and friends who selected them, but crazy Norman Osborn when he was running his own Avengers squad. So why does Hank Pym want to keep these future heroes (crazies) around? Well now that's why you need to pick up this hardcover collecting Avengers Academy #1-6 and parts of Enter the Heroic Age.

Detective Comics #873
Scott Snyder (w) Jock (a)
Have you checked this one out yet since Snyder and Jock took over three issues ago? Well what are you waiting for? This is good stuff yo. This issues concludes the first arc by the dynamic duo. And if you like the scribblings of Snyder, check out American Vampire this week – he's got the goods.

Fantastic Four #587
Jonathan Hickman (w) Steve Epting (a)
You can actually jump the gun on this one as it will be available on Tuesday, January 25. One of the original members of the Fantastic Four will not survive this issue – dum, dum, dum (cue also music). My money is on Johnny, literally as I have placed a friendly wager with one of our regular customers who thinks they know – they don't know. Trust me, it's Johnny. Anyway, if you have not been reading Fantastic Four since Hickman took over, you do not know what you are missing – pick up this issue, and stay for his saga.

Green Arrow #8
J.T. Krul (w) Diogenes Neves, Vicente Cifuentes (a)
Is this book really ready for two arrow characters? I mean, c'mon, Ollie could not even share a title with Dinah, what makes us think he is ready to take on the "Black Arrow?" I'm just asking.

Infestation #1
Dan Abnett, Andy Lanning (w) David Messina (a)
We might not have the droids you are looking for, but we do have the IDW crossover event you want, nay demanded as the zombies are coming, the zombies are coming (picture a zombied Paul Revere). That's right, the zombies are crossing dimensions and licenses to take on G.I. Joe, the Transformers and some dudes from the Federation (Kirk, Spock, McCoy). Hide your women, in case they might get eaten – zombies and all.
New York Five #1 (of 4)
Brian Wood (w) Ryan Kelly (a)
The follow-up to the four, but who is the new fifth? Well that's why you have to check this book out. This one gets in touch with real life, superheroes not so much as Wood examines how exciting college life can be in the big city. Of course there will be complications, we are talking about college girls here.

Shazam #1
Eric Wallace (w) Cliff Richards (a)
Blaze is trying to make a name for himself, and how better to do that than to tempt the powerless Billy and Mary Batson (no, leave them alone, they didn't do anything to you). So enter one Freddie Freeman to save them. It's all this special one-shot of DC's Captain Marvel.

Star Wars Darth Vader and Lost Command #1 (of 5)
Haden Blackman (w) Rick Leonardi, Dan Green (a)
Do you like Star Wars? Who are we kidding, you like comics, of course you like Star Wars. So the real question is why have you not been checking out Dark Horse's official comics? If you are looking for some original trilogy fix, we got it right here in this mini-series as Vader goes off to find the some of Governor Tarkin. Exciting, possibilities there are.

Teen Titans #91
J.T, Krul (a) Nicola Scott (a)
Don't Robin and Ravager make a cute couple? Well she sure thinks so, Robin not so much. Anyway, these two possible lovebirds have to face off against some evil dudes by themselves as no one seems to know where the rest of the Titans are. Raven's around, but doing her own thing.

X-Men #7
Victor Gischler (a) Chris Bachalo (a)
Protect and Serve starts here. Not there, or over where, but HERE! And no further. Anyway, Spidey shows up for Gischler's second arc at the helm of our favorite mutants who just survived the vampire civil war. Turns out the X-Men are heading back to New York (didn't they just leave?) to do this hero thing. Maybe Gischler did not get the memo?