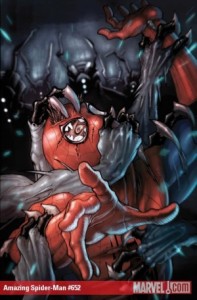 Amazing Spider-Man #652
Dan Slott (w) Stefano Caselli (a)
Next. As in next artist up. Slott's first arc is done, we now understand the new Spidey world order. So what's next? I am glad you asked. Part one of three, the Spider Slayer is back and he's well looking to slay a spider. As always, the hyperbole flies in these previews as "big" changes are coming so don't miss an issue.
Avengers Academy #8
Christos Gage (w) Mike McKone (a)
Are you missing the days when Norman Osborn was in charge and all the maniacs and free reign? Well this book is not that, however it is probably as close to that as you will get as Osborn's hand-picked future psychos are now in the Avengers Academy.

Thisweek they seek retribution against The Hood for some internet video he posted of Tigra.  I guess they are a little sensitive. However this mission of revenge (which by the way is a dish best served cold – thanks Khan) could eventually lead them down the path Steve Rogers and company was hoping to avoid.
Batman Streets of Gotham #19
Paul Dini (w) Dustin Nguyen, Derek Fridolfs (a)
This title should really just be simply titled Hush or even Hush's Revenge. Thomas Elliot remains at center stage in this penultimate (just love that word) issue of the "House of Hush" arc. Dr. Death is back, and in league with you guessed it, Hush. I am guessing they are talking about our national healthcare crisis. I mean that's doctors talk about right?

Buffy the Vampire Slayer #40
Joss Whedon (w) Georges Jeanty, Andy Owens (a)
This is it, the end of season eight. Everything we have been reading these past couple of years is coming to a head. I don't know about you, but personally I am a little excited, and sad as there will be no new Buffy for a little bit. Obviously the Scoobies will never be the same again after this issue, with a betrayal so shocking that well, you will be shocked, SHOCKED!

Invincible Iron Man #500
Matt Fraction (w) Salvador Larroca (a)
Milestone time as this giant-size anniversary issue has a little bit of everything – a Spidey team-up, three generations of Stark's fighting together in the future, a revelation of an offspring, rings, nightmares and oh yeah, the tagline – the future starts now. I mean if you want to get technical the future is every moment just before this moment and then it becomes the past after of course it was the present. You know Tony Stark (and maybe Reed Richards) knows what I'm talking about.

Morning Glories #6
Nick Spencer (w) Joe Eisma (a)
It's a new year and that means time to give something new and a little different a shot. Have you heard of Image Comics' Morning Glories? Chances are you might not have seen it on the shelves because it sells out so fast – every issue has gone to a second printing. This is a pretty interesting tory about six kids that go to a school, that of course is not as it seems. It's something a little different, and isn't that what Monty Python taught us all those years ago?
Scarlet #4
Brian Michael Bendis (w) Alex Maleev (a)
Scarlet's practicing downright anarchy in this book, but is it justified? And our we still willing to go along for the ride after the tragedy of a week ago? At their best, comics tap into the national zeitgeist whether they realize it or not. Anyway, the revolution kicks into high gear this issue. Good thing it's not low gear, I mean we have people to entertain with this.

Astounding Wolf-Man TP Volume 4
Robert Kirkman (w) Jason Howard (a)
A man that is a wolf, that's what this story is about. Well of course it's not that simple, but when you get right down to it, it pretty much is. Of course, this is Kirkman's take on that scenario, and as he does all the time, puts his own unique slant on things. This is the end however, as every moment from issue number one has been leading to this story and of course, the Astounding Wolf-Man's life will never be the same. NEVER! Collects Astounding Wolf-Man #19-25.