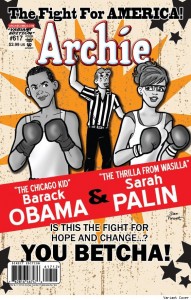 Archie #617
Alex Simmons (w) Dan Parent (a)
Part two of "Campaign Pains," President Obama and Sarah Palin arrive in Riverdale as Archie and Reggie have made a mess of things claiming that they have the support of one the town's guests. This being Archie, of course hilarity ensues and then the Secret Service gets involved. My sources tell me a trip to Guatanamo Bay might be the our pals' future.
Batman The Return of Bruce Wayne Deluxe Hardcover
Grant Morrison (w) Various (a)

Collecting the six-issue mini-series that saw the return of said title, Grant Morrison puts the finishing touches on his Final Crisis epic and introduces us to a new chapter in the Caped Crusader. But first he needs to get back and that is where the fun begins as Bruce jumps though time. If you thought Johnny Depp was cool, then wait until you meet Swashbuckling Bruce Wayne.

Brightest Day #19
Geoff Johns, Peter Tomasi (w) Ivan Reis, Patrick Gleason, Adrian Syaf, Scott Clark, Joe Prado (a)
Calling all Aquaman fans! Our favorite fish guy is about to go to war, "Aquawar" as Brightest Day sets to wind down to it's shocking conclusion (really? do you think we will really be shocked? does anything shock us anymore?). Anyway, Aqauman calls in all his fish buddies, including the Morton Fishsticks guy because you can never have enough people to battle the Black Manta – natch!

Daytripper TP
Gabriel Ba (w) Fabio Moon (a)
The Brazilian twins are at it again with what just might be their masterpiece, until their next new book. What are the most important days of your life? That is the answer the brothers search for during select moments of Oliva Domingos life. One thing is for certain, the journey is just beginning for all of us. And as an added bonus, this one is going to be the Willow Grove February Book Discussion title (February 26).

DC Universe Online Legends #1
Tony Bedard, Marv Wolfman (a) Harold Porter, Livesay, Adriana Melo, Norman Lee (a)
You've drooled over the trailer. You've played the game. Now read the comic. The highly-anticipated MMO is now a 26-biweekly series as Luthor's obsession of destroying Superman reaches its height as a handshake deal with Brainac seals the all of humanity's fate. Exciting, isn't it?

Deadpool and Cable #26
Duane Swierczynski (w) Leo Fernandez (a)
Just because Cable is dead doesn't mean this team-up can't happen. Deadpool is left devastated after his good buddy's passing and he decides to honor his life the only way Wade Wilson can – starting a Cable museum, amusement park, TV show and whatever else that crazy dude can think of. It's our buddy Swierczynski at the helm so you know this one is going to be a good time.

Invincible #77
Robert Kirkman (w) Ryan Ottley, FCO Plascencia (a)
This is it, the final stand. The Viltrumite War has raged on and on and on. I think this think is lasting longer than the Dominion War in Deep Space Nine, longer than War & Peace. You get my drift, it's been a long one. Of course the fate of all life is at stake, once again. Where's a vampire slayer when the apocalypse is on our doorstep again? Anyway, think Invincible loses?

Invincible Iron Man 500.1
Matt Fraction (w) Salvador Larroca (a)
Here it is, Marvel's first point one issue. The perfect jumping on point for new fans and readers. This issue is a must for all as Tony Stark takes his first step into the future. Isn't he technically doing that each time he takes a step, because the step is in the future and then the present and finally the past. I really hate teaching quantum mechanics to newbies. Anyway, this one is going to set up the most-action packed story ever in the history of the Shellhead, EVER! A great jumping on point (pun intended).

Legion of Super-Heroes Annual #1
Paul Levitz (w) Keith Giffen (w/a) John Dell (a)
The reunion we have all waited for, more than the Beatles, Simon and Garfunkel, Bill and Monica. Paul Levitz and Keith Giffen reunite for their first all-new Legion tale in 20 years. And this one will be a doozy as we meet the all-new, all-deadly Emerald Empress. Let the hyperbole fly as one Legionnaire's life will no longer be the same Yo.

Secret Six #30
Gail Simone (w) J. Calafiore (a)
This issue sees the end of one of the Sixer's career. The question of course is who, and then how? This is the team that took on Lex Luthor last month, and now must face the Doom Patrol. Please don't tell me someone gets taken out by a Doom Patrol member. Please. Taken out might be the wrong choice of words of course. If you have yet to check out what Simone has been doing, now is a good as time as any to start.

Superman 80-Page Giant 2011 #1
Various (w) Various (a)
Are you a fan of Superman but afraid of picking up the monthly because of all the continuity? Well fear not fan of the man in blue, have we got the book for you this week as we get seven fresh and exciting new tales spotlight Superman and his amazing friends by some of the industry's up-and-coming talent. This one has vampires, clones and of course a little Bizarro!

Superman War of the Supermen HC
James Robinson, Sterling Gates (w) Eddy Barrows, Aaron Lopresti, More (a)
Think of North vs South except with Kryptonians and Lois Lane's Dad. Intrigued? Well this is the final New Krypton story that changes everything for a certain big blue boy scout. Also, this is why Superman is on his walkabout. Collects Superman War of the Supermen #0-4 and material from Superman #700.

Ultimate Comics New Ultimates #5 (of 5)
Jeph Loeb (w) Frank Cho (a)
The final chapter is here (and it's about time), but Loeb and Cho have yet to disappoint as Thor is back, but he is mad. The question is, is it an angry kind of mad or crazy kind of mad? Good question isn't it? One thing is for sure, we should at least learn just what Loki is trying to accomplish.