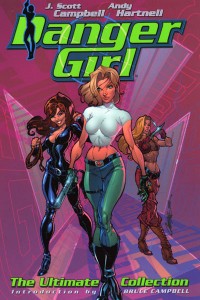 Danger Girl The Ultimate Collection
Scott Campbell (w/a) Andy Hartnell (w)
"If you don't get that gun outta my face, an eye won't be your only damaged organ."
You might scoff. You might laugh. But for me, I was sold on Danger Girl as soon I arrived at page 5. Bruce Campbell's (The Chin) introduction "hooked" me and then the character who I thought was Campbell in the story kept me turning the page.
Yes, Campbell's drawings of the lovely ladies did not hurt, and he does have a penchant for drawing girls, curves and all. But honestly this story is just about the fun for me.
Abbey Chase is recruited by the spy agency Danger Girl to stop evil-doers from taking over the world (they never are interested in anything else are they?). Along the way they meet the most over-the-top characters ever collected or assembled in one story (and that includes the Austin Powers trilogy!).
But wait there's more. There is action galore, and adventure that could put the Indiana Jones saga to shame (okay, I really can not back that up, but it's a lot of fun). Plus witty dialogue and wordplay that would make Adam West and possibly Joss Whedon proud (okay, probably not up to Whedon's standards but still there is a fun with the dialogue that is undeniable).
The book reminds me a lot of James Bond and there is a nice homage to the opening sequences of those movies on the introduction splash page introducing the story in chapter one. I also see it a little She Spies (the former campy syndicated television show starring Natasha Henstridge, which must have been influenced some part by this book) when I read Danger Girl.
Not to give too much away, but once you start reading the book you will realize what kind of a ride you are in fact in for as our heroine Abbey Chase is being held by two "goons" at gun point by a "friend" Donavin for "stealing" his gold mayan skull. Of course, hilarity and escape ensue with crocodiles, amazing acrobatics, eluding bullets, clothes being torn (in strategic places, natch!) that would make James Kirk blush, a speed boat chase, a helicopter and a jeep plummeting off a mountain that end the prologue on, of course, a cliffhanger.
The two best industry quotes that best described Danger Girl are "… a great summer movie waiting to happen*" and "Danger Girl is one of those damn rare comic books that jump-starts that bundle of nerves at the base of your skull and reminds you of how you felt when reading comics as a kid. Just pkain, old-fashioned fun … woof!#"
So what are you waiting for? Stop by either Brave New Worlds location and pick up Danger Girl The Ultimate Collection, and prepare to have a swell time, and of course, one hell of a ride. In fact, this book is the amusement parks of comic books (I just thought that one up).
Be careful, this one might not be for the younger audience out there as it does have suggestive material but it's probably nothing you can not find on cable television today.
*Craig Perry, producer American Pie and Final Destination
#Adam Hughes
Check out previous "My Pick" selections below.
Thor by J. Michael Straczynski TP Volume 1
Final Crisis Legion of 3 Worlds