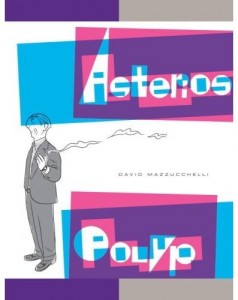 Now we do not want to assume what type of comics really get it done for you. Some people just read DC. Some just read Marvel. Others won't touch super hero books or will only buy single issues. Well this month we have a treat for you. This book actually came out in 2009, but has been hard to find on shelves since it is always selling so well.
Asterios Polyp
David Mazzucchelli (w/a)
The 2010 Eisner Award for Best Graphic Novel – New!, David Mazzucchelli tells a story about a man who sees everything in his life go up in flames. Everything he owned, the world he lived in is now gone. Does he attempt to pick up the pieces and rebuild (he was living a nice New York City life) or does he decide to take a different path and rise from the ashes?
"What's that noise?"
Past collides with the present as he attempts to find out what went wrong in his life and how he lost the love of his life.
Asterios Polyp is something completely different for the regular comic book reader and worth taking a chance on as it really is a masterpiece. Pay close attention how Mazzucchelli singles out certain characters and uses geometric shapes to tell his tale.

This is the journey of Asterios Polyp. You have been warned.