I'm back again for another look into some comics I'm looking forward to reading. 1 is an old standby for me but the other one, well to be honest, is in a series I've never read before.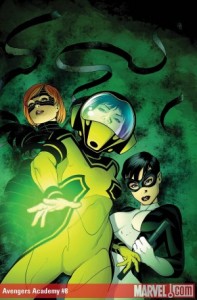 Avengers Academy #8: I've heard a lot of good things about this series and I have meant to read it. I never even read the issue that tied into Thunderbolts a little while back. Recently I've been staring at the cover to issue #7, for about a month now, and the fact that giant man is on there makes me wonder what Hank Pym has been up to recently. Also the cover of the new issue is very ominous (those girls look to be up to something)…and wasn't there something in that timeline way back in that issue of the Avengers (Avengers #5) about one of these characters being a bad guy or something. I dunno for sure what these characters are up to since I haven't read it but I will be reading this issue.
Avengers Academy #8, Christos Gage(w)/Mike McKone(a), 32 pages, full color, $2.99, Marvel Comics
Northlanders #36: As it happens this week is a double Brian Wood week. We, Wood fans, ge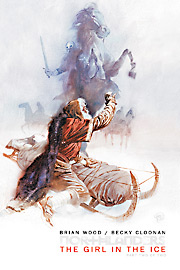 t DMZ #61 and Northlanders #36 at the same time…but I am more excited for Northlanders this week for one reason…Becky Cloonan. That girl can draw a mean comic. Also she's a great match for or Wood's writing (see both Demo serieseseses…es) and I really cannot wait to see what happens to the old outsider who found that girls body frozen in the ice. If you've never read this book before grab it and issue #35 (it's a small week again so give it a try why dontcha) and enjoy a 2 part story arc about Vikings and a cold winter. Maybe you will identify with the snow and ice covered world these character inhabit because the Philly area is snow and ice covered today once again.
Northlanders #36, Brian Wood (w)/Becky Cloonan(a), 32 pages, full color, $2.99, Vertigo Comics