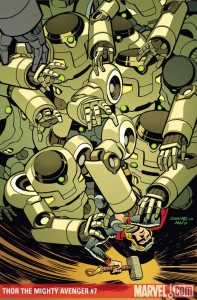 Thor The Mighty Avenger #7
Roger Langridge (w) Chris Samnee (a)
What have I not said about this book that remains? It is a fun ride. I think the appeal is for both comic and non-comic, hero and non-hero fans, it's that universal. Langridge has been able to touch on something very simple and basic in his portrayal of the Asgardian God of Thunder – humanity.
By taking Thor, giving him amnesia and setting him down in Broxton, Oklahoma the everyday Jane (Foster) and Joe can travel the same path to find out just who and what is going on. It does not take long for Thor to start piecing things together, but a lot of the fun is in those pieces connecting – just like a jigsaw puzzle Yo.
Only one issue remains and after reading the latest effort in issue 7 this week, it appears Langridge will be taking Thor The Mighty Avenger out with a bang.
And whether he's drawing the normal everyday folk of the town and the museum or its the Warriors Three and Sub-Mariner, Samnee's storytelling pictures are really the perfect compliment for this title.
I don't know what else is left to say. It may be too late to save this title, but it's not too late for you to start enjoying it. And if you missed the first few issues, Marvel released the first four issues in a collection with some old classic Kirby tales this past week – on sale at Brave New Worlds, 'natch!
See you next month for my review of the series conclusion.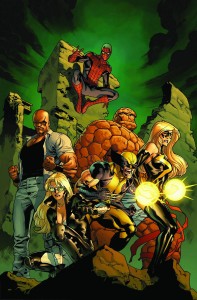 New Avengers #7
Brian Michael Bendis (w) Stuart Immonen, Wade Von Grawbadger (a)
I almost feel as if I should never write anything about New Avengers because I really love each and every issue. It is so much fun. It's like if your friends and family were all super heroes, that's what it feels like. Just chilling, arguing, fighting (sometimes even the bad dudes as well), laughing and smiling.
One of the things that makes issue #7 stand out this month is the inclusion of Squirrel Girl. That's right, you read that correctly, Squirrel Girl makes and appearance and you just know that Bendis will be working his mojo on this character like he has so many over the past 10 years in the Marvel Universe.
Sometimes I feel like the Marvel 'verse is Bendis' own personal playground littered with action figures. He finds the one know one plays with (this month being Squirrel Girl) and makes everything about that character.
I am going to really enjoy the ride that is coming.
Another reason why this book is so special is the inclusion of Victoria Hand. This might not be the analogy, but I look at hand being from across the aisle (take your pick, democrat or republican). Hers is a different point of view than the spandex crew, but they both want the same thing, they just have different ideas on how to get there.
This month especially now that all the sorcerer supreme wackiness has settled down, the team realizes just who is in their midst. And oh yeah, ol' Spidey continues to have the luck that only he can have in this issue.