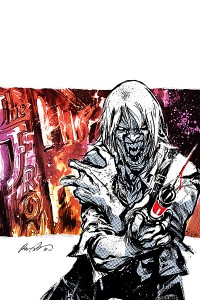 American Vampire #9
Scott Snyder (w) Rafael Albuquerque, Mateus Santolouco (a)
Issue nine this week sees the conclusion of the "Devil in the Sand" arc, and what a finish it was as the story moves at a breakneck (no pun intended) pace. There are lots of exciting things happening to almost everyone involved in the book. Snyder does such a great job of building the suspense, that you really question as to who will survive (at least I did).
Albuquerque's pictures are amazing once again, as his style lends itself to the unique vampire vision this book has. Every vampire interpretation is always a little different, to Joss Whedon's "dusting" to the pretty-looking ones in Vampire Diaries (I've watched one episode).
Since issue one, Snyder has done a spiffy job of shifting back and forth through time, and this episode is no exception as we start out in the past, witnessing the origins of Cashel and how he came to this little hamlet of a town. Just when you think his entire world has been turned all topsy turvy, it gets better. Trust me, things will not always be as they seem.
Anyway, as final arcs go, this one had it all, big reveals, new beginnings and of course a great big battle followed by a one-on-vampire showdown. It's good stuff, trust me.
And if you want to give this book a shot (and why haven't you yet?), Brave New Worlds has the first five issues available in collection in stock today. You can thank me when you see me, its that good.